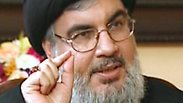 Hezbollah leader Hassan Nasrallah
Photo: AFP
The US House Foreign Affairs Committee was set to introduce new legislation that would toughen economic sanctions against Hezbollah, the committee announced Thursday.

"Hezbollah continues to represent a threat to the United States, Israel and the entire region," Congressman Brad Schneider, one of the bill's authors, said in a press release.

If passed, the Hezbollah International Financial Prevention Act would impose severe new sanctions on the Shiite organization's fundraising channels, as well as restrict the Lebanese terror organization's ability to use its funds to support global terrorist activities.

Related stories:

According to the bill's draft summary obtained by Al-Monitor, it would allow the Treasury Department to target central banks and other financial institutions, primarily in Lebanon and Europe, that "knowingly engage" with Hezbollah and "its enablers."

The bill also targets Hezbollah's TV station Al-Manar by requiring the Obama administration to list and penalize any satellite provider that still carries the television channel.

The act also intends to hit Hezbollah fundraising by requiring President Obama to examine whether Hezbollah meets the criteria for designation under the Foreign Narcotics Kingpin Designation Act.

Finally, if passed, the act would require President Obama to determine whether the Lebanese militia meets the criteria of a transnational criminal organization.

The bill's draft summary notes that it is American policy "to prevent Hezbollah's global logistics and financial network from operating in order to curtail its domestic and international activities," according to Al-Monitor.

"Prior to September 11th, 2001, Hezbollah was responsible for more American deaths than any other terrorist organization. Since that time their capabilities have grown, enabling them to attack the US and our allies around the world — from the Philippines, to Bulgaria, and in even on our doorstep in South America. We cannot afford to ignore this threat," House Foreign Affairs Chairman Ed Royce, who is sponsoring the bill, noted.

"The United States must deal with Hezbollah firmly and decisively with unyielding resolve by crippling its extensive, illegal financial network," said Congressman Mark Meadows, another one of the bill's writers. "Hezbollah's days of unhindered criminal operations and terrorist activity are numbered."

"Hezbollah's actions in Syria — directed by their patrons in Iran — have helped keep the Assad regime in power. They must be held responsible for their destructive actions in Syria and the threat that they continue to pose to our ally, Israel," said Congressman Eliot Engel, another sponsor of the bill.

The bill, Engel continued, "will give the Administration the tools they need to break any lifeline to Hezbollah."