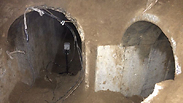 Hamas tunnel unearthed by IDF last month. Using the cement Israel transfers to Gaza
Photo: IDF Spokesperson's Unit
Had this affair taken place in a different place and ascribed to different people, we would have found ourselves glued to the big screen. From our remote place, deep in our seats and perhaps running our hands through popcorn, we would have saluted the scriptwriter, the director and the actors for a breathtaking action film.

In the first minutes we would have seen a line of 50, 100 and even hundreds of terrorists emerging from depths of a Palestinian tunnel, one of the four tunnels unearthed in the past year. The cameras would wander inside the winding tunnel, more than two kilometers deep in the bowels of the earth, lined with concrete. It should be noted that we brought the concrete of the terror tunnels on ourselves.

Latest Discovery

While Hamas claims IDF exposed old tunnel in Gaza border, army says traces and tools found indicate recent movement in 'possibly largest tunnel ever uncovered'.

The camera in the film would dwell upon the entrance to the tunnel, located in the living room of a private house in Gaza or in a henhouse.

Upon returning to reality, the exact location of the opening on the Israeli side is alarming. Had we failed to unearth the terror tunnel last month, and those before it, a dreadful disaster could have taken place.

Just think what would happen if dozens of gunmen managed to slip away at night, run just several meters to the tangled woods (a troubling location, as I said) and get organized to storm the closest Israeli community. This community nearly touches the tunnel's exit. It's a matter of five minutes and dozens of casualties on our side.

Indeed, we've already seen the pictures and heard the commentators. But there's nothing like seeing it for yourself from close up. Last week I came, heard and saw what I saw, and entered the "Israeli" third of the tunnel without bending down and without making any effort.

At a spitting distance beyond the fence I was able to spot the Egyptian patrol. I asked a (very) senior officer to promise that another Palestinian tunnel is not being dug out under our feet as we speak. "One?" He smiled dryly. "Why not 10?"

They will soon show us the "advanced" one, tunnel No. 4 which was unearthed last month. Longer, wider, with a double exit opening and with a deep track for a terror attack, professionally known as a "kidnapping route," in case they succeed big time.

Since the Muslim Brotherhood government was brought down, we have been hearing about operations to drown Palestinian tunnels on the Egyptian side. The moment a tunnel is spotted, a hole is dug out and is flooded with water until the tunnel collapses. They have destroyed 500, they say there are 1,000 tunnels, and the nightmare isn't over.

This is Hamas' flagship project in Gaza. Their prime minister, Ismail Haniyeh, is patient. After the third tunnel was uncovered on the Israeli side, he boasted that "thousands of heroes are working quietly underground, preparing the next battles over Palestine."

This is how the industry works: They intentionally dig slowly, in eight-to-10-hour shifts around the clock. They have accumulated experience of more than 10 years and a cadre of hundreds, and perhaps even more, diggers. Only eight workers per shift. No phones. They communicate by whispering. There are tunnels for goods and tunnels for human passage to the Egyptian side, and explosive tunnels to the Israeli side.

Each of the 18 Hamas factions takes credit for tunnels – a matter of livelihood and power. There is a tunnel manager and a foreman, engineers and electricians. The digger will earn from 60 to 80 shekels (about $17-23) per shift, and the funding comes from Tehran.

An "advanced" tunnel is built in three years. No one is in a hurry on the Palestinian side. If they get caught, they'll dig another one. The fact that they're working on a surprise element is troubling. And the most annoying thing is that, as it turns out, they are using the cement we transfer to Gaza.