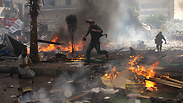 Muslim Brotherhood supporters protest in Cairo (Archive)
Photo: AFP
CAIRO - An Egyptian court sentenced 529 members of the outlawed Muslim Brotherhood to death on Monday on charges including murder, a defense lawyer said, in a sharp escalation of a crackdown on the movement.

Most were arrested during clashes which erupted in the southern province of Minya after the forced dispersal of two Muslim Brotherhood protest camps in Cairo on August 14.

Political turmoil has deepened in Egypt since the army overthrew President Mohamed Morsi of the Muslim Brotherhood last July. Security forces have killed hundreds of Brotherhood members in the street, and arrested thousands of others.

Related stories:

"The court has decided to sentence to death 529 defendants, and 16 were acquitted," lawyer Ahmed al-Sharif told Reuters. The ruling can be appealed.

The charges against the group, on trial in Minya since Saturday, include violence, inciting murder, storming a police station, attacking persons and damaging public and private property.

Only 123 of the defendants were present. The rest were either released, out on bail or on the run.

The government has declared the Brotherhood a "terrorist" group. The Brotherhood says it is a peaceful movement.