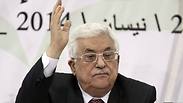 Mahmoud Abbas has yet to decide who he despises more, Netanyahu or Mashaal
Photo: EPA
"Stand up," Munib al-Masri, the Palestinian billionaire from Nablus, urged the members of the delegations of the "historic reconciliation" between Hamas and Fatah. "Raise your hands," he pushed them in front of the cameras, "to demonstrate the joy."

He was actually the only person who looked happy. The reconciliation is the project al-Masri has been working on for six years now between Gaza and Ramallah.

And when they finally stood up, one could detect several lines on a single piece of paper, symbolizing the "unity." That same day, the (temporary) prime minister in Ramallah, Rami Hamdallah, announced that he was prepared to offer his resignation.

Faltering Talks

Analysis: With peace negotiations on brink of failure, Israeli and Palestinian officials come up with creative suggestions, including plans of joint custody of Jerusalem's old city, unilateral pullout, single state of Israelis and Palestinians.

There is no rush. It's not an agreement, there is no cause for celebration for anyone, it's just a declaration of intent. We have already been through all of this (three times) and there is no feeling of historical importance.

People in Gaza tell me that Mahmoud Abbas accepted the reconciliation with a lot of rage towards the entire world. Washington is angry, the negotiations with us have failed, and Hamas is plotting to raise its big head in the West Bank. People in Ramallah tell me that Abbas managed to trap Hamas at a moment of economic and political crisis, just before General al-Sisi is elected Egyptian president and begins settling all the scores.

The five weeks set for the establishment of the Palestinian "unity government" look like eternity. They did not decide, for example, who will control the security organizations in the Gaza Strip, how will the division of funds of the "unity" be implemented, what kind of representation will Hamas receive and how does the Strip plan to function versus Ramallah. Realistic people in Gaza are calling it a "government of challenges." Pessimists in Ramallah are pointing out the obstacles which have not been removed.

Take heed: Our angry prime minister (in front of the international media), Benjamin Netanyahu, has announced that he is suspending the negotiations with the Palestinians and has set economic sanctions. But he can't starve Gaza, and the trucks will cross over to the other side.

Just like with Abbas and al-Sisi, Netanyahu knows that this affair could end in nothing. What does one do? Leave the door open. Suspend, rather than kill, the talks. He has already gained twice: There is no fourth batch of released prisoners, the government will not collapse, John Kerry and Tzipi Livni and Saeb Erekat will stop driving him up the wall, Abbas will sweat.
Hamas fawning over General al-Sisi
Were we surprised? Not by the trend, but perhaps by the odd timing chosen by Abbas, a week before the "deadline" of the nine months of talks expired. But when senior Fatah officials coordinate entries and exits through the Erez Crossing with our security officials, and when Egypt opens the Rafah Border Crossing for senior Hamas member Moussa Abu Marzouk, there is no drama. What Egypt knows Israel can guess.

Here is a route information clue: Two weeks ago, Ahmed al Muslimani, the advisor of Egypt's acting president, Adly Mansour, published an "open letter" to Hamas leader Khaled Mashaal. At a time when the Muslim Brotherhood movement is defined as a terror organization, Muslimani decides to advise Mashaal to differentiate Hamas and "look forward in positive political terms."

What does that mean? That Egypt is deep inside the picture, that Egypt is receiving updates from Abbas, that thanks to the strategic coordination our people know what goes into the Palestinian baking oven. The fact is that a moment after the hands were raised in Gaza, we heard greetings and compliments towards the Egyptian government. What does that really mean? That Hamas is fawning over General al-Sisi. Hello? What about the tunnels and pursuits in Sinai?

Now we'll see them brewing up inside. Abbas may be shrewder than we thought, going for an organized plan: First he summoned Israeli journalist to announce that he seeks peace, then he threatened to dissolve the PA, and the next day he dropped the bomb. He has yet to decide who he despises more, Netanyahu or Mashaal.

Let's see him traveling to Gaza, let's see him establishing a government, let's see him setting elections, and let's see Hamas keeping its mouth shut and its military wings not blowing up the whole thing.