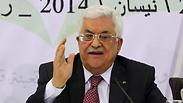 A coup de grace to peace. Abbas.
Photo: EPA
Palestinian Authority President Mahmoud Abbas gave the "coup de grace" to the peace process in his speech Saturday to PLO leadership, an Israeli official in statement.
In his speech in Ramallah, Abbas reiterated his readiness to extend peace talks but on condition that the Israeli government released prisoners, froze settlement construction and agreed to discuss the borders of a future Palestinian state.
He also stressed he would never recognize Israel as a "Jewish state."
"We will never agree to recognize a Jewish state," he said, recalling that the Palestinians had recognized the State of Israel in 1993. Abbas noted that this request had not been made to Egypt or Jordan when these countries signed peace agreements with Israel.
"Abbas was recycling previous terms he knows Israel has not accepted, after he had, time and again in the past month, refused to move forward in the negotiations," the Israeli official said in a brief statement. "Today he administered the coup de grace to the peace process," he added.
Related stories:
Israel suspended the troubled, US-sponsored negotiations with Abbas on Thursday after he signed a unity pact with rival Islamist group Hamas – a movement which has sworn to destroy Israel. Meanwhile the United States said it would reconsider $500 million in annual security and budget aid to the Palestinians.
Commentators said the discussions had already hit a brick wall and the United States had been struggling to extend them beyond the original April 29 deadline for a peace accord.
Abbas, for the first time since the suspension, said he was still open to re-starting the talks and pushing on beyond the deadline. There was no immediate response from Israeli negotiators.
"How can we restart the talks? There's no obstacle to us restarting the talks, but the 30 prisoners need to be released," Abbas told a meeting of senior leaders in the Palestine Liberation Organization at his presidential headquarters in the West Bank city of Ramallah, in a speech broadcasted live in Hamas state television as well.
"On the table we will present our map, for 3 months we'll discuss our map. In that period, until the map is agreed upon, all settlement activity must cease completely," he told the officials, who were gathered for a two-day conference of the Palestinian Central Council, a top decision-making body, to asses the Palestinian strategy to achieve statehood.
He also noted the new unity government with Hamas would deal with internal Palestinian matters, and that the diplomatic negotiations with Israel will be done by the PLO only, and not include the Islamic terrorist organization.
"The (new) government will be in charge of what happens inside the Palestinian territories," he said. The PLO is internationally recognized as the "sole representative of the Palestinian people" and, as such, is the only one that can negotiate on the Palestinians' behalf.
"(The unity government's) purview will be what happens domestically. I recognize Israel and it would recognize Israel. I reject violence and terrorism and I respect international commitments," he assured.
The deal between Hamas and Abbas's Fatah party envisions agreement on a government of independent technocrats within five weeks and holding elections at least six months later. The Palestinian split came in 2007 when Hamas seized Gaza, and reconciliation efforts failed.
This reconciliation has infuriated Israel, which - along with the United States and European Union - considers Hamas a terrorist group.
"Our goal is the form a Palestinian state in the 1967 borders with East Jerusalem as its capital. We are continuing on the path to this goal and we haven't given up on it. There will be no Palestinian state without East Jerusalem as its capital. We want to achieve our rights through negotiations," Abbas told PLO leaders at the conference, adding that any accord will be brought to a referandum that would include Palestinian refugees as well.
He stated that while the Palestinians have not given up on the "right of return," they've offered the possibility of compensation to any Palestinian refugee who is interested in that as an alternative.
Talks veered toward collapse after Israel failed to release a final group of Palestinian prisoners it had pledged to free in March, and after Abbas signed several international treaties - a move that Israel said was a unilateral move towards statehood.
Palestinians accused Israel of not focusing enough during the last nine months of negotiations on drawing future borders between Israel and a future state of Palestine, and they denounced the expansion of Jewish settlements in the West Bank and East Jerusalem.
Israel accuses Abbas of being more interested in healing the national rift with Hamas than achieving a peace deal.
Hassan Shaalan, Reuters, the Associated Press and AFP contribued to this report.