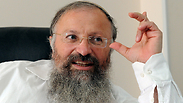 Rabbi Shmuel Eliyahu. 'We are looking for a way for everyone to find their place'
Photo: Effi Sharir
The memorial ceremony for residents of the northern city of Safed will be held Sunday evening amid a conflict between bereaved parents and the city's chief rabbi, who opposes a performance by women singers during the ceremony.

Rabbi Shmuel Eliyahu walked out of a Holocaust Remembrance Day ceremony last week when a dance group of girls got on the stage. Ahead of Remembrance Day for Israel's Fallen Soldiers, he has been trying to prevent the performance of female singers during the ceremony. Last year, by the way, he accepted the presence of a woman performer in the ceremony.

Ynet-Gesher Poll

Nearly half of Israel's Jewish population believes religious soldiers should not be forced to attend events which include women performers. Fifty-nine percent of haredim say women in their sector are not discriminated against, while 41% think they are.

"I am not boycotting the ceremony," Rabbi Eliyahu clarified in an appeal to Safed Mayor Ilan Shohat and representatives of the bereaved families. "No one wants this whole thing to explode. We are looking for a way for everyone to find their place."

But the rabbi's stand angered many bereaved parents, including Sara Vaspi, chairwoman of the Safed branch of Yad Lebanim, the association of the families of fallen soldiers.

Vaspi was hit by bereavement three times: Her first husband, Lieutenant Colonel Yoav Vaspi, was killed in the Yom Kippur War in 1973 and received the gallantry medal after his death; her son, Corporal Arnon Vaspi, was killed 10 years later in Lebanon; and her nephew, Lieutenant Uri Maoz, was also killed in Lebanon in 1988.

"We won't give up on women's singing. That will not happen," says Sara Vaspi. "It hurts me that on this difficult day, in which the heart of the bereaved family members bleeds once again, people are arguing about whether a woman singer should perform or not, instead of talking about values and about giving to the state."

Vaspi's husband, Yaakov Ben-Zichri, is also a bereaved parent: His son, Private Omri Ben-Zichri, was killed in 1987 on a post on the Lebanon border. "The rabbi has no right to dictate my life," he says angrily. "As far as I'm concerned, he doesn't even have to come to the ceremony."

The Safed Municipality offered the following comment: "We believe that the rabbi, who represents both religious and secular people, will use his discretion and accept the feelings of the public, the vast majority of which is secular and traditional. What we see before our eyes is respect for the families, respect for the state and respect for the fallen soldiers."