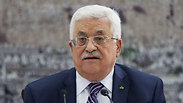 Mahmoud Abbas. 'One of the most resolved Arab leaders in the opposition to Holocaust denial'
Photo: AP
Palestinian President Mahmoud Abbas released a statement in Arabic and English last month, in which he said that the Holocaust was "the most heinous crime known by mankind in modern times."

Such declarations are not common in the Arab world, either because Arab leaders believe the Holocaust deniers or because they see the memory of the Holocaust as an Israeli asset which they are not interested in strengthening. Abbas has also been condemned for not making explicit statements. Well, now he's done it, explicitly, in Arabic.

Interfaith Dialogue

Together with Imam Shamsi Ali, Rabbi Marc Schneier has made it his life's mission to bring Muslims and Jews closer. Their activity includes Holocaust remembrance event in Tunisia, conference on Shoah and Islam planned by Austrian Muslim community.

One would expect this declaration to be welcomed in Israel. Wrong. The prime minister did not welcome it but rather protested. This statement, according to Netanyahu, was a deceptive move aimed solely at "appeasing the international public opinion" and purifying the despicable agreement with Hamas.

Abbas, Netanyahu clarified, cannot call the Holocaust the most heinous crime in history and in the same breath embrace Hamas, which denies the Holocaust – just like Israel could not have condemned racism and be a close ally of the apartheid regime in South Africa.

Oops. I think Netanyahu did not say the second part of that sentence. What he also did not say is the following: Netanyahu sees the Holocaust as an Israeli PR asset. Only Israel will decide who can use this asset and who cannot. Israel's enemies, for example, should deny the Holocaust. Israel's allies are allowed to recognize it only if they take responsibility for it and if it serves the State of Israel's interests.

The supreme ruler on Holocaust issues and its great priest is Israel's prime minister, Benjamin Netanyahu. Unlike others, the Israeli prime minister has the moral right and duty to engage in systematic, daily contempt of the Holocaust.

The Holocaust, according to Netanyahu, is not a one-time, unique event in which an attempt was made to destroy an entire ethnic group in the name of the principles of murderous racism. In fact, every act of terror against Israel is a holocaust; every strategic threat to its hegemony is a holocaust; every threat to the State of Israel is a resurrection of Hitler from his grave.

It turns out that there are plenty of Hitlers around the world, and almost-holocausts take place every time Netanyahu tries, like he just accused Abbas, to "reduce damages" or make political gains or promote his political agenda.

It's not that Abbas did not have any interests when he issued the statement at this time. He probably had. That definitely does not mean that this declaration should give him even a single advantage in the political arena. Recognizing the Holocaust is a universal moral obligation, and those who do not fulfill it should be condemned. It is not an act of grace which helps score political points.

But the fact that Abbas, like Netanyahu, is a political player, does not subtract from the importance of this declarative move, which turned him into one of the most resolved Arab leaders in the opposition to Holocaust denial. This statement should have been welcomed, even if it had come from bigger enemies than Abbas.

I, for example, would have liked to see an unequivocal Iranian condemnation of Holocaust denial. Such a declaration would not have turned Iran into a friend of Israel and would not have negated the fact that Iran's policy jeopardizes the State of Israel. But as people who see Holocaust denial as an indecent act against humanity, we should have welcomed any expression against the denial.

The strange thing about Netanyahu is not his political use of the memory of the Holocaust – all of Israel's prime ministers have done that – but the obscene and superficial way he does it. This obscenity and superficiality are unhelpful to the struggle to preserve the memory of the Holocaust. They are even unhelpful to the State of Israel.