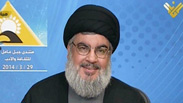 Hezbollah Secretary-General Hassan Nasrallah. Journalist 'thrown to the dogs'
Photo: AFP/Al-Manar
The Lebanese law bans any relations with Israel: No handshakes, no exchange of words, definitely no photographs and not even happening to be in the same room with "the Israeli enemy." Those who were caught, including Miss Lebanon, were put on trial and sentenced to three years in prison.

The two camps, the camp of the secular establishment and public opinion leaders and the camp of the Syria-Iran-Hezbollah axis, are now caught in a battle over the participation of fascinating journalist Hanin Ghaddar, the managing editor of Lebanon's popular English-language news website NOW, in a Washington conference. She was invited to lecture about the United States' policy in the Middle East and surprised everyone.

Terror Group

Analysis: Most of Lebanese terror organization's attempts to avenge its commander's assassination have failed thanks to improvement in Israel's intelligence collection abilities.

Instead of talking about failures and mistakes, as she was expected to do in Beirut, Ghaddar chose to lash out at Hezbollah and used harsh words to blame the organization for the wretched condition of the two million Syrian refugees who fled to camps in Lebanon. They are miserable, she complained, and we are collapsing under the human burden. We pity them, and we are entangled within ourselves.

The criticism hit Ghaddar from an unexpected place: The watchdogs of the Hezbollah-Iran-Syria axis found former Defense Minister Ehud Barak's name on the Washington conference's list of participants. They went and posted a huge (fabricated) picture of Barak and Ghaddar, and Hassan Nasrallah's mouthpieces declared that she had been "thrown to the dogs."

Such a headline in Beirut is not a child's play. It's a call to watch her, to plant an explosive device in her car or in her home and to settle a long score with her.

Ghaddar is an unusual journalist in the Lebanese media landscape. Two years ago, she published a provocative article in New York-based Jewish magazine Tablet about her Shiite grandmother, who "loves Hassan Nasrallah, believes every word he says and he is her only hope."

For my grandmother, Ghaddar wrote without revealing what she herself thinks about Nasrallah, "it is very simple: Jews are evil; Hezbollah is good."

Those targeting Ghaddar have now published a "statement of disassociation" on behalf of her family and an "apology" to Nasrallah. I'm not sure there were such statements.

The Arabic-language press is waging a smear campaign against Ghaddar. Lebanon's English-language newspapers, on the other hand, have launched a campaign of solidarity with her. In Arabic they are demanding to throw her in jail and destroy her, in English they are slamming Hezbollah and defending Ghaddar.

The battle between the camps has turned into a reflection of the high politics in Beirut: President Michel Suleiman has completed two terms, the law requires elections and a new president in the palace, but Hezbollah is torpedoing, threatening and disqualifying the candidates. Every moment, someone makes certain to fuel the battles between the two camps. This diverts the attention from the charged issue of electing a new president.

But Ghaddar isn't giving up: Upon her return to Beirut, she issued a new attack on Hezbollah in which she announced that she – as opposed to them – speaks with one voice: What she said in Washington she will say without hesitations at home too, despite what her grandmother says.

"They say I should have asked for permission before opening my 'big mouth' in Washington," she attacked. "Why didn't Nasrallah ask me for permission before he sent hundreds of fighters to help Bashar Assad in Syria and drove the refugees over to us?"

As for her "mingling" with Ehud Barak, Ghaddar stated that she did not break the law: She made it clear in advance that she would not attend his lecture and would not pick up the microphone before she was promised that Barak was not in the room.

She is not alone. In another conference, in the emirate of Qatar, the Lebanese participant asked the organizers to remove the name of the Israeli panelist from the itinerary. The Israeli was offended, and the Lebanese begged for his life. The Israeli gave up.