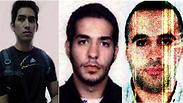 Hezbollah suspects arrested in Thailand last week
Photo from Stop910.com
On March 17, 1992, a suicide bomber detonated a car bomb near the Israeli Embassy in Buenos Aires. Four Israeli embassy workers and five local Jews were among the 29 people killed in the terror attack.

Two days later, American intelligence officials intercepted a phone call received by Hezbollah's military commander, Imad Mugniyah, from his commander in Argentina, Talal Hamiyah, who briefed him on the successful attack.

Hezbollah's 30th Anniversary

Analysis: Israel could have gotten rid of Hezbollah leader quite easily, but at the end of the day – it's better the devil you know.

Two years later, in March 1994, Hamiyah, who had since been appointed head of Hezbollah's foreign operations, sent a suicide bomber to the Israeli Embassy in Bangkok. The attack was prevented after the terrorist changed his mind at the last minute.

This week, exactly 20 years later, that same Hamiyah, according to information published in Thailand, tried to come full circle and correct his mistake. But this time the telephone in Beirut did not ring. There was nothing to report. The attack was foiled.

There are three main reasons for what happened: First of all, Imad Mugniyah was assassinated, and there is no one with similar military skills to avenge his death. Secondly, the Thai authorities respond quickly to any warning received from Israel, according to foreign reports. And most importantly, there has been a significant improvement in Israel's intelligence collection abilities.

Hezbollah's efforts to continue targeting Israelis are part of a pattern of action which has been going on since Mugniyah's assassination in 2008. Since then, his authorities have been divided between at least four people. Hamiyah is one of them, and one of his jobs is to achieve revenge.

Those same intelligence abilities which, according to the foreign press, made it possible to locate – and assassinate – Mugniyah likely helped thwart Hezbollah's attempt to avenge his death.

Despite a series of bold and murderous operations the Revolutionary Guards sought to execute together with Mugniyah's successors – which included abducting Israelis, bombing Israeli offices abroad, targeting Chabad emissaries and Israeli tourists – almost all were foiled in time.

It was only in one case that Hassan Nasrallah's men had the upper hand: In the terror attack in Burgas. In July 2012, a suicide bomber sent by Hezbollah succeeded in blowing himself up on a bus carrying Israeli tourists at the Bulgarian resort city's airport.

The death toll was heavy: Six dead and 30 injured. It's a terrible price, but the Hezbollah men, who have not let go of their fatal schemes for a minute in the past few years, had sought a much higher death toll.

The masterminds of the Burgas attack are now on trial in Bulgaria. The affair, which refuses to be forgotten, still causes great embarrassment for the terror organization.

Nonetheless, the recent arrests in Thailand prove that Nasrallah's list of priorities has not changed: His desire to achieve revenge and target Israelis is still bigger than his sensitivity towards the public opinion and international law.