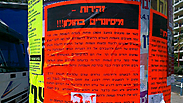 Sign warning Jews against missionary activity (archives)
Photo: Yoav Zitun
Ultra-Orthodox activists have called on Pope Francis to forbid his followers to spread their faith among members of other religions.

In a letter sent to the pope ahead of his visit to Israel, the Yad L'Achim organization stated that the Catholic Church objects to missionary activity, and that he should therefore use his visit to issue a clear statement on the matter.

Holy City

Jerusalem Rabbinate revokes kashrut of local café, claiming visitors encouraged to convert to Christianity. Manager says although restaurant owned by Evangelical Christian businessman, no missionary activity taking place there.

"We hope that you will find the time to deal with this painful issue, which is both a religious and human problem," the activists wrote.

"Unfortunately, we have been witnessing a serious phenomenon of growing escalation in Christian missionary activity in Israel," the letter read. "Thousands of Christian missionaries are operating in a manipulative manner among Jews of all ages, and of all parts of the public, in a bid to capture their souls and convert them to Christianity.

"This phenomenon is particularly serious when these Christian missionaries take advantage of the distress of disabled, sick, elderly Jews and new immigrants, offering them help with the direct goal of making these miserable people, who are members of the Jewish faith, adopt the Christian religion."

The haredi organization says at least 150 missionary communities are operating in Israel freely, and that the Christian Catholic leadership must intervene and stop this activity. The activists noted that Pope Francis' visit was a rare opportunity for "a dramatic turning point in the struggle."

'Yad L'Achim expresses its hope, from the bottom of its heart and soul, that you will call for a ban on all missionary activity among members of all religions," the letter concluded. "Such a ban will undoubtedly help relieve the tensions created by the missionary activity and will be highly appreciated."