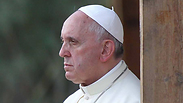 Francis in Jordan. The most unexpected pope
Photo: EPA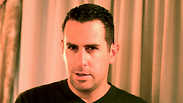 Menachem Gantz
Photo: Yuli Gantz
Within a year since he was elected pope, and thanks to the rare charisma he is blessed with, Francis has managed to divert the global public opinion's attention from the pedophilia affairs and acts of corruption which stained the Catholic Church's reputation.

After establishing his position as a super leader, Francis is now working to put the Holy See back at the center of the international arena.

Interfaith Dialogue

Op-ed: Ahead of pontiff's visit to Israel, Rafael Castro asks him to openly acknowledge Jews' desire to reside in peace in Holy Land.

Only three popes were crowned Man of the Year during their term by the prestigious TIME magazine. The first one, Pope John XXIII, who is known as the "good pope," led far-reaching reforms in the Catholics' faith. The second one, Pope John Paul II, turned the Catholic Church into a global power.

The third pope is Francis, who wears three hats: A political leader and head of state for all intents and purposes, a spiritual leader for billions of Catholics around the world and a universal humanistic leader working for peace and justice.

In his first year in office, Francis was revealed as the most unexpected pope, as a person guided by his conscience, who is not afraid of violating the conventions all his predecessors stuck to. He announced that he could not judge homosexuals, declared that even non-believers have a place in Heaven, defined the Church's objection to abortions as controversial and recognized the Jews' right to stick to their faith and seculars' right to act according to their conscience.

In normal times, the Holy See conducts itself according to a clear and acceptable protocol. But Francis won't stop straying away from it and surprising, starting with his decision to give up on the Apostolic Palace and live in the Vatican's guesthouse as a regular priest to posing for "selfies" with his fans.

It is in this spirit that Francis began his visit to our region on Saturday. The pope has already created a precedent by insisting on bringing the Maronite patriarch along from Beirut for what will be the first visit ever of a Lebanese spiritual leader to Israel.

Another precedent is being made on Sunday, to Israel's discontentment: Francis will be the first leader arriving in Israel after visiting the Palestinian Authority (his helicopter landed in Bethlehem) – without passing through Jerusalem first. By doing so, the Vatican is basically giving the PA the status of an actual state.

Yet unlike the previous popes who visited Israel, Francis will go up to Theodor Herzl's grave to express his support for Zionism. And in his Yad Vashem speech, he is expected to speak against anti-Semitism.

His meetings in Bethlehem and Jerusalem are not just meant for photo-ops: Francis has been personally working to broker a visit between President Shimon Peres and Palestinian President Mahmoud Abbas, and he hopes to break the freeze in the peace negotiations.

Salve Pontifex, welcome Pope Francis.