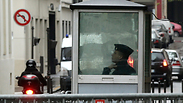 A French policeman outside a synagogue in Paris (archive)
Photo: AP
Two Jewish men were attacked Saturday as they left a synagogue in Creteil, southeast of Paris, leading France to tighten security around synagogues and Jewish cultural centers on Sunday.
French Interior Minister Bernard Caseneuve ordered police around France to increase security at Jewish houses of worship and other Jewish establishments.
Massive Emigration
Jewish agency says number of Jews making aliyah from France rose nearly fourfold in first quarter of year due to 'climate of anti-Semitism' and gloomy economic situation.
The two men, brothers wearing traditional Jewish clothing, were assaulted by two men at around 8:30 pm Saturday night. After beating them, the attackers fled, one on foot and the other on a bicycle.
Police has opened an investigation into the assault and is searching for the perpetrators.
The victims who suffered multiple bruises were taken to the hospital by firefighters, according to police sources.
The interior minister said he "wishes to reiterate France's unwavering determination to fight those who, by their murderous acts or foul words propagate racism and anti-Semitism and undermine the cohesion in our society."
French President Francois Hollande said police would catch those responsible for the attack.
"We must do everything to fight against anti-Semitism and racism," Hollande told news channel I-Tele on Sunday.
At some 550,000, France's Jewish community is the largest in Europe, though violence such as the 2012 murders of three Jewish children and a rabbi by Islamist gunman Mohamed Merah have prompted higher emigration to Israel or elsewhere.
France's Agence Juive, which tracks Jewish emigration, says 1,407 Jews left France for Israel in the first three months of this year, putting 2014 on track to mark the biggest exodus of French Jews to Israel since the country was founded in 1948.
Last year's total of 3,300 was a 73 percent increase on 2012.
The attack came hours after a deadly attack on the Jewish Museum of Brussels that left three people, including an Israeli couple, dead and a fourth seriously injured.
Reuters, AFP and the Associated Press contributed to this report.