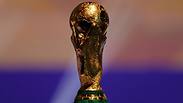 Brazil World Cup gets Jewish spin
Photo: AFP
A soccer-loving Argentinean Jewish couple believes the upcoming World Cup tournament in Brazil can team up Jewish soccer fans from around the world while connecting them to local Jewish culture – and to each other.

Mariano Schlez and his wife Paola Salem of Buenos Aires are organizing a series of special activities for Jews attending the World Cup, which is expected to attract more than 1.5 million people to a dozen cities across Brazil during the global soccer tournament, from June 12-July 13.

Israeli Pride

Risco Group and Elbit Systems have been chosen to provide security systems for the 2014 Mondial.

Among them, thousands of Jewish soccer fans from many nations including Israel are expected.

Mariano, a physical education teacher who works with Jewish children through local chapters of World ORT and the Maccabi sports organization, and Paola, who operates a new company called Judaic Tourism (www.judaictourism.com), saw the World Cup as a once-in-a-lifetime sports event – and a powerful way to engage Jews from around the world in Latin America.

"If even 1% of all the visitors to the World Cup are Jewish, this will be an incredible opportunity to connect each other," said Mariano.

With the support of the Schusterman Foundation and its #MakeitHappen microgrant program, Mariano and Paola formed "Jewish Connect at the World Cup 2014." The group, on Facebook and Twitter as Jewish Football Fans (Judíos fanáticos del Fútbol in Spanish and Metailim Israelim vamundial in Hebrew), shares information about World Cup venues, while creating a meeting place for ticket seekers, host families, medical care and more.

But beyond acting as an online soccer fan meeting place, the group also details local Shabbat candle-lighting times, places to secure kosher food, synagogues, community centers, Jewish attractions, and details about special Jewish events the group is organizing for the World Cup, Mariano said.

"Jewish Connect at the World Cup" also aims to summon volunteers from Jewish communities in all the Brazilian World Cup venues to form "committees of young Jewish sports enthusiasts," who will act as "connectors" for visiting Jews, Mariano said.

From Rio de Janeiro to Sao Paulo, from Belo Horizonte to Fortaleza, Manaus, Recife and Porto Alegre, these local Jewish groups will help organize activities like Shabbat celebrations dinners, pickup soccer games, beach soccer matches with Havdalah ceremonies, and more.

"This is a big challenge, it's never happened before," Mariano added. "The idea is not only to participate in cool events, but also to strengthen Jewish identity by getting to know the local Jewish communities in Brazil and to connect with Brazilian Jews and Jewish travelers from around the world in a fun setting."

Those planning to travel to Brazil for the World Cup who want a special Jewish experience and want to participate in these special events are encouraged to contact the group.

To learn more, go to Twitter: @mundialjudaico, and Facebook: JFF-Judíos Fanáticos del fútbol que viajan a Brasil.