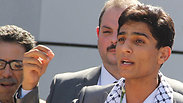 The Palestinian winter of Arab Idol has been blocked from performing at the World Cup opening ceremony.

Palestinian news agency Ma'an reported that Arab Idol winner Mohammad Assaf claims he has been banned from performing at the 2014 FIFA World Cup opening ceremony.



Palestinians celebrate Assaf's victory in Arab Idol (Photo: AFP)

"I was supposed to sing for the World Cup 2014, in the opening ceremony, but, I do not want to accuse anyone but some people, or states or parties, God knows who, intervened and FIFA canceled my song with Platinum Records," he reportedly said at a news conference in Gaza on Tuesday, Ma'an reported.

Related stories:

"There are a lot of people who fight me, I do not know who," he added.

Acording to the Ma'an report, Assaf further claimed that Colombian pop-singer Shakira has "refused to sing in the World Cup because I will not sing."

In July, while on a visit to the Palestinian Authority last year FIFA president Sepp Blatter said he would invite Assaf to sing at the 2014 World Cup in Brazil.

Assaf was the first Palestinian ever to win the popular Arab Idol TV singing contest, and as a result became the UN's first Palestinian goodwill ambassador in June 2013.

"We are not aware of the Arab Idol. Details concerning the official ceremony are still being defined," a FIFA representative told PolicyMic in response to Assaf's comments.