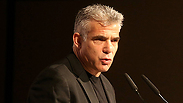 'Lapid hasn't said a thing, letting each person understand what they want to'
Photo: Nimrod Glickman
Yair Lapid is a talented writer. His words flow off the keyboard without any effort.

Last Saturday, I read the book he wrote on behalf of his father. I enjoyed it very much. There aren't any finance ministers who knows how to write like that, and I doubt there will be any other in the history of the State of Israel.

I'm starting with that because Lapid knows how to turn an idea into words. That's his big advantage. He reached the government based on words, and he turned into a leader for half a million Israelis based on words. When his words are vague, there is a problem; when he is unclear and limited, it's not because of the ability but because of the decision.

Coalition Tensions

Attila Somfalvi, Moran Azulay

Source close to Lapid claims he has decided to confront Netanyahu on diplomatic issues, sets six-month deadline to break the diplomatic stalemate between Israel and the Palestinians – is the coalition on brink of collapse?

We met for the first time several months before the elections. I read his columns in the newspaper; he said he had read mine too. Everyone likes to be read; that's the nature of writers.

Over a cup of coffee near his Tel Aviv home, I remembered one of his columns in which he described the state's borders and the conflict. The borders which everyone is familiar with and the conflict which had a clear solution, according to Lapid the columnist.

I asked him about it, but he refused to release a vision. In front of me was already sitting a focused politician. Negotiations are not held in public, he argued firmly, and it seemed to me that he evaded the question because he had yet to decide what would be good for the elections.

Last week we sat together on the same stage at the Israel Bar Association conference. A one-on-one meeting, they called it, but there were actually hundreds of people there.

Lapid is an easygoing person in the limelight and outside the limelight. That's an important trait, which creates sympathy, but doesn't provide everything that is needed. In the past year, Lapid has been strict about keeping things vague, so as not to get into trouble with the right or with the left. He has been so strict about it that he hasn't said a thing, letting each person understand what they want to.

On the stage at the conference, I asked him again about a peace agreement after the end of the negotiations. I believe that Israel has to make a decision. Vagueness is not good when it comes from the right, and it's harmful from the left side too. We must argue in order to make progress.

Lapid said that he is against unilateral moves, explained that one day 80,000 people would have to be evacuated from their homes, and reiterated that he supports a united Jerusalem.

Compared to a person who knows how to simplify ideas, his responses on the Israeli-Palestinian issue were awkward: In favor and against one-sided moves, in favor and against evacuating settlers, in favor of a peace agreement and against trusting that such an agreement would happen.

This week, the statements turned into a political speech at the Herzliya Conference. According to his people, it was a groundbreaking speech, but I didn't understand what ground he was breaking.

Lapid urged Prime Minister Benjamin Netanyahu to present a map with borders, but did not mention what his own borders are. He said he wants to freeze construction outside the settlement blocs, but did not explain what he would do with the blocs. When he spoke about four million Palestinians as a danger, he forgot – by mistake or intentionally – that a million and a half of them live in Gaza and that we have already disengaged from them in 2005.

And what should we do with Jerusalem, our united capital, as Lapid has declared so many times? And what should the average citizen, who is in favor of annexing the settlement blocs and agrees with him so much about the need for separation, do with the fact that it's unclear where his planned separation is? He spoke nicely. Spoke, touched and evaporated.

Lapid is not alone in the world of vague plans. His "brother" Naftali Bennett's plan deals with annexation, which draws away the more he declares it, and ignores what will not be annexed so as not to irritate voters from the rightist end. Tzipi Livni talks about peace and partners she has yet to find. And Netanyahu talks about both, depending on the time and place.

Vagueness has become the new politics. It's not the Palestinians, it's just us. The Israeli citizen must now ask himself: What is Israel's policy? And why the hell are our young, handsome and eloquent ministers failing to explain it around the world?