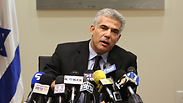 Lapid to give Netanyahu six months to renew peace process
Photo: Gil Yochanon
Tensions between Prime Minister Netanyahu and Finance Minister Yair Lapid reached a new peak Monday evening, after a bout of tit-for-tat comments regarding their respective positions on the peace process. Lapid affiliates slammed the prime minister, who earlier called Lapid "inexperienced."

"It seems that despite his years of experience, the prime minister had yet to move us closer to peace, stop Iran's nuclear program or even renew diplomatic relations with Turkey," a Lapid affiliate told Ynet.

Sunday evening Lapid presented his outline for a diplomatic solution with the Palestinians and slammed the prime minister for allowing right wing forces to push Israel towards a bi-national state.

People close to the finance minister said that Lapid has decided to confront the prime minister over diplomatic issues, namely the now defunct peace process. The source told Ynet that Lapid will not allow Netanyahu to pussyfoot around reaching a two-state solution over the next three years.

The source further said that Lapid has set the Palestinian elections –slated for six months from now – as the deadline for overcoming the political stalemate with the Palestinians.

Prime Minister Netanyahu turned Finance Minister Yair Lapid's words against him Monday, using comments he made at the beginning of his political career to slam the centrist leader and call him inexperienced.

In a document released Sunday, Lapid criticized Netanyahu and Economy Minister Naftali Bennett, urging a halt in settlement construction and saying "Extreme right-wing forces are pushing us toward the delusional idea of annexation… but we will not allow this to happen. Yesh Atid will not only bolt from the government, it will bring it down."

Netanyahu took at jab at Lapid's comments and said the plan Lapid laid out, according to which Israel should focus on delimitating in its final borders, was a sign of inexperience in diplomacy on part of the finance minister.

"We should not allow inexperience in negotiations and security to lead us to a rash plan which will lead to devastating results like the (Gaza) disengagement," Netanyahu said,

Quoting comments Lapid made at Ariel University when he launched his party, Yesh Atid, Netanyahu said "we must not allow ourselves to make the same historical mistakes made by the Israeli left, which always gives away its position before talks have begun, and causes the Palestinians to demand more and more… this is not the way you conduct negotiations, certainly not in this region," Netanyahu said.

"I do not deal in political commentary, I am in charge of security for Israeli citizens and I will continue to lead a responsible policy."

However, Lapid is just the beginning of Netanyahu's troubles. Earlier Sunday, Foreign Minister Avigdor Lieberman criticized the lack of coherence in the government's proposed policies on the Palestinians, attacking Netanyahu for not leading his cabinet and demanding that he formulate a plan that would represent the entire coalition.

"What happened yesterday, when four senior ministers gave public addresses one after the other with each proposing a different political solution, was a grotesque performance," said Lieberman at an Institute of Certified Public Accountants conference in Eilat, referencing to Lapid's speech Sunday which was part of the Herzliya Conference that hosted leaders from Israel's major parties.

The panel on peace saw speeches by Bennett, Lapid, Justice Minister Tzipi Livni and Interior Minister Gideon Sa'ar, who represented the Likud. Lieberman elaborated on his criticism, saying "one minister spoke of annexation, another minister spoke of deliberation, a woman minister spoke of segmentation, and the last spoke of stagnation. That is not a government policy. We need to cut down and adopt a single political plan to bind all parts of the coalition."
Lapid's borders
In his speech Sunday, Lapid detailed his position regarding peace talks, and the need to focus on final border arrangement with the Palestinians.

"There is no reason to keep avoiding the necessity of drawing out the State of Israel's future borders," Lapid said.

Israel, he noted, "needs to come to the next round of peace talks with detailed maps, prepared by us, that express a wide national consensus. These maps would allow us to formulate a three-part move that, at the end of which, we will be completely separated from the Palestinians and reach a wide-reaching accord with the moderate Arab states."

Detailing the three stages of his proposed plan, Lapid called them "preparations," "trust building," and the final stage, "agreement."

"The reason these maps haven't been drawn until now is that they entail the need to freeze construction outside the major settlement blocs. But this sort of freeze is not a threat to us, and is not a concession on our part. It is exactly what we need to do.

"There's no reason to continue building settlements in areas that won't remain inside Israel's borders in any future accord, and there's no reason to invest billions in infrastructure that we would eventually give the Palestinians as a gift. I would rather invest the money to improve the lives of Israeli children, not in improving the lives of Palestinian children."