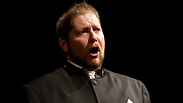 ADL says opera itself not anti-Semitic, but could stir anti-Israel sentiments (illustration)
Photo: Shutterstock
New York's Metropolitan Opera said Tuesday it had scrapped a live cinema broadcast of an American opera inspired by a 1985 Palestinian hijacking over fears that it might fan anti-Semitism.

Avant-garde American composer John Adams wrote the opera "The Death of Klinghoffer" in 1991 and the Met's new production was first performed in London in 2012 to widespread critical acclaim.

Survival

Young Edgar Krasa was sent to Terezin concentration camp that succeeded, in midst of Nazi brutality, to become a cultural center: 'Music can be so much more than playing a tune, it helped me live and it kept me going through the worst part of my life'.

It is based on the Palestine Liberation Front hijacking of an Italian cruise liner, the Achille Lauro, with more than 400 passengers on board in the Mediterranean Sea in October 1985.

The siege ended three days later when one gunman shot dead a 69-year-old wheelchair-bound American Jewish tourist, Leon Klinghoffer, and threw his body into the sea.

But the Met said it would no longer transmit its November 15 performance into cinemas across the world over "an outpouring of concern" that it "might be used to fan global anti-Semitism."

"I'm convinced that the opera is not anti-Semitic," said Met general manager Peter Gelb in a statement.

"But I've also become convinced that there is genuine concern in the international Jewish community that the live transmission of 'The Death of Klinghoffer' would be inappropriate at this time of rising anti-Semitism, particularly in Europe."

On May 24, three people were shot dead outside the Jewish Museum in Brussels, sending jitters through Jewish communities across Europe. A French Islamic radical was arrested over the murders.

The Anti-Defamation League (ADL), which campaigns against anti-Semitism, welcomed the cancellation, calling the opera "controversial" and "biased."

Klinghoffer's daughters say the opera dangerously juxtaposes "the plight of the Palestinian people with the coldblooded, terrorist murder of an innocent disabled American Jew."

The ADL said the opera itself was not anti-Semitic, but "could be used in foreign countries as a means to stir up anti-Israel sentiments or as a vehicle to promote anti-Semitism."

Gelb described Adams as one of America's greatest composers and "The Death of Klinghoffer" as one of his greatest works.

For 80 years, the Met has broadcast live performances to millions of radio listeners and its Live in HD program allows the operas to be screened live to cinemas across the world.

The ADL said the November 15 screening would have been available in more than 2,000 theaters in 66 countries.

UN human rights chief Navi Pillay expressed alarm last week at the rise in extremist, racist rhetoric in Europe, warning that anti-immigrant language can spark serious rights abuses.

Last month, euroskeptic, anti-immigrant and xenophobic parties made stunning gains in European Parliament elections.

Europe's treatment of its Jewish minorities remains a highly sensitive issue, with memories of the Holocaust in World War II still haunting the continent.