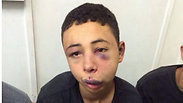 Youth beaten by IDF soldiers. 'One video can cause great damage to Israel'
"Since the start of the second intifada, one Palestinian child has been killed every three days." This statement has been mentioned tens of thousands of times on social media and countless websites in the past four days. This isn't the only argument against Israel, but this appears to be the most crushing argument.

Is a child really killed every three days? It's a manipulation. And when such a claim is accompanied by a video showing IDF soldiers brutally beating the cousin of the youth murdered in Shuafat, this manipulation succeeds.

Inversion of Morality

Op-ed: Depraved exploitation and abuse of children as targets and weapons will not end so long as UN, members of international community and NGOs continue to enable these atrocities.

Welcome to the propaganda war, which has moved to the social networks.

Israel is not only dealing with grown terrorists. Sometimes they are children. Sometimes they are armed with knives. Sometimes it's even worse.

In 2005, Iad Ladi of Nablus was caught with explosives at the Hawara checkpoint ahead of a suicide bombing. He was 14 years old. Mustafa Jaber was killed in 2006 as he was throwing a Molotov cocktail at IDF soldiers. He was 16 years old. Mohammad Rabah, 17, was killed when he participated in exchanges of fire with the IDF. I can go on. It's a long list.

In the past few years, the propaganda has moved to the arena of video footage, which goes viral, and there are thousands of cameras going around in the territories with the purpose of "documenting the soldiers' crimes."

Every six months, the anti-Israel side gets to present a crying child held by IDF soldiers or a soldier pulling out his weapon ("David the Nahal soldier") or troops with a big mouth who curse. And now it's the beaten Palestinian youth, with an American citizenship, who has become the new hit on the Web. That doesn't make the occupation the cruelest. It makes it the most documented.

The pro-Israel side fights back. Israel does not kill innocent people, including children, intentionally, a young woman from Ashkelon replied. The Palestinian organizations, on the other hand, have turned innocent civilians, including children, into a main target.

That's how it was in the suicide bombers' war in the previous decade, that's how it is with the rocket fire, and that's how it is in acts of terror like the attack in Itamar, in which three-month-old Hadas, four-year-old Elad and 11-year-old Yoav were stabbed to death. One of the murderers were barely 18 years old. He may also be considered a child.

Another claim gaining momentum on the Web says that it's okay for the Palestinians, because they are acting against an occupation. The pro-Israel users stand firm: Was the murder of Hadas, Elad and Yoav in Itamar, or the murder of the three teens this month, for the sake of freedom or liberation? These were actions of the global jihad, whose Palestinian branch, Hamas, broadcasts on its children's shows that "it's a religious duty to kill all the Jews."

Every embarrassing video against Israel can be countered with videos of Hamas' summer camps, with six-year-old children being trained to use weapons; Hamas' interior minister, Fathi Hamad, who admitted in his own voice that his organization uses children as a human shield; or clips showing Hamas members forcing children to serve as their human shield.

One slogan and one video, like we saw in recent days, cause great damage to Israel. The IDF is trying to educate its soldiers to more humane behavior. It's doesn't always help. There are exceptions. And every such exception serves as a powerful weapon of propaganda for Israel's haters.

Israel has succeeded in presenting the Hamas members as heinous murderers, but one cannot escape the thought that they knew exactly what they were doing. They wanted to light a bonfire – and they succeeded, both on the ground and in the virtual space.