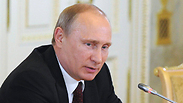 Putin. 'We in Russia feel Jewish people's pain like no other'
Photo: Reuters
Russian President Vladimir Putin met with a delegation of rabbis from Israel and the Rabbinical Center of Europe in Moscow on Wednesday to discuss joint efforts to prevent the rewriting of history, the struggle against neo-Nazism and neo-fascism, xenophobia and anti-Semitism.

The delegation included Russia's Chief Rabbi Berel Lazar, Israel's Chief Sephardic Rabbi Yitzhak Yosef and former Chief Rabbi Yisrael Meir Lau, Rabbinical Center of Europe General Director Rabbi Menachem Margolin, Antwerp's Chief Rabbi David Moshe Lieberman, Holland's Chief Rabbi Binyomin Jacobs, Rabbi Yisrael Yaakov Lichtenstein, head of the Federation of Synagogues of London, Rabbi Yirmiyahu Cohen of Paris and President of the Federation of Jewish Communities in Russia Alexander Beard.

Historical Politics

In move some claim is intended to curb free speech, Russian president makes Holocaust denial a crime.

"We in Russia are very familiar with the tragedy of the Holocaust. Six million Jews were killed in the Soviet Union and Europe," said Putin. "At the same time, we know very well, that representatives of the Jewish people fought against Nazism in the Red Army were political workers, and just ordinary soldiers, doctors, in general, have made a worthy contribution to the fight against Nazism.

"But the tragedy of the Jewish people takes, of course, a special place in the number of crimes committed by the Nazis during World War II. I repeat once again, we in Russia know about it and feel the pain like no other, because, you know, more than 20 million Soviet people, the vast majority of them Russian, were killed during the fighting against Nazism.

"We consider you in this regard closest allies, and I ask you to consider too us as such," the Russian president added. "I want to assure you that we will do everything possible to prevent the recurrence of such tragedies in the future."

Former Chief Rabbi Lau thanked President Putin for his commitment to the safety of the Jewish people and shared with all the attendances a story about his childhood, about a Russian man that saved him when he was a child at the Nazi death camps.

Rabbi Jacobs thanked Putin for his efforts to ensure freedom of religion in Russia, and informed him of the current campaigns the European Jewish community is conducting in order to overturn bans against kosher slaughtering and circumcision in countries like Poland, Denmark and Norway.

Rabbi Lieberman stressed that he is very proud of President Putin's bold leadership and commitment to his duties as a leader.