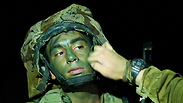 'They are the entire nation's shluchei mitzvah,' says Chief Rabbi David Lau
Photo: IDF Spokesperson's Unit
Israel's chief rabbis and other religious leaders have called on the Israeli public to say a prayer and recite Psalms for the success of the ground operation in Gaza and the safety of IDF soldiers.

"They are the entire nation's 'shluchei mitzvah' (messengers of a percept) to restore peace and quiet," explained Chief Ashkenazi Rabbi David Lau. "Our power is in our mouth," added Chief Sephardic Rabbi Yitzhak Yosef.

Tending to the Troops

Chabad strives to play a key role in lifting the spirits of Israelis - soldiers and civilians - in the face of the enemy threat.

A massive prayer rally was held at the Western Wall on Saturday night for the safety and successful mission of the IDF. Former Sephardic Chief Rabbi Shlomo Amar led the prayers and reading of the Psalms with other rabbis as thousands gathered at Judaism's holiest site in Jerusalem.

On Wednesday, Rabbi Amar visited the IDF fighters deployed in the Gaza vicinity to support them ahead of the operation and handed out a special prayer he had written for soldiers embarking on a battle.

Chief Rabbi Yosef issued a statement as the ground forces entered Gaza on Thursday night, saying that "each and every one of us must say a prayer, recite Psalms and do every good deed for the success of the soldiers, who are sacrificing their lives in the defense of the Jewish people."

A similar call was issued by the Shas movement's new spiritual leader, Rabbi Shalom Cohen, who urged the public "to shower the IDF soldiers, who are devotedly defending the people sitting in Zion, with prayers against those seeking to destroy the Jewish people. May God be with them and bring them safely back to their families."

Local organizations have also emerged in the religious and ultra-Orthodox publics in the form of call centers and websites which are dividing the Psalms and relevant prayers between the worshippers and providing the names of the soldiers operating in Gaza for the sake of personal prayers for each and every one of them.

Tali Farkash and the Tazpit News Agency contributed to this report.