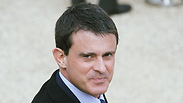 French Prime Minister Manuel Valls
Photo: AFP
French Prime Minister Manuel Valls has vowed not to allow conflicts between the nation's Jews and Muslims to erupt, even if it means banning protests.

Valls spoke at a memorial ceremony on Sunday for the more than 13,000 Jews rounded up in the Paris region 72 years ago,

Under Attack

Operation Protective Edge leads to violent attacks on Jews around the world.

with most held at a cycling stadium, known as the "Vel d'Hiv," before being sent to Auschwitz.

The "Vel d'Hiv roundup" was among the darkest days for French Jews in Nazi-occupied France.

A day earlier, pro-Palestinian demonstrators defied a Paris protest ban to denounce Israel's offensive in Gaza and clashed with police. A week earlier, two synagogues were attacked by protesters.

Valls said, "France will not allow provocations to feed ... conflicts between communities."

France has Europe's largest Jewish and Muslim communities.