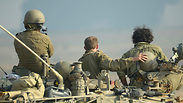 IDF soldiers on Gaza border. From Operation Protective Edge to Operation Hard Rock
Photo: Avi Roccah
Here's an idea the cabinet may find interesting: Within two or three days, when the IDF completes its work on the tunnels leading to Israeli territory, Prime Minister Benjamin Netanyahu and Defense Minister Moshe Ya'alon will announce that Operation Protective Edge has ended, and that a new operation is underway.

From now on, Israel is taking initiative into its own hands: It is removing the ground forces, but if Hamas continues to launch rockets, it will pursue and even intensify the Air Force bombings, or the artillery fire. When it wants to, it will send ground forces back into Gaza. The new operation will be named Hard Rock.

World is Watching

Op-ed: In order to win public opinion, Israel must adopt all of Islamic organization's conditions for ceasefire and add sections benefitting Gaza's residents – in exchange for Strip's demilitarization by an international force.

The immediate advantage of this idea is that Israel is no longer being dragged by Hamas. Israel is no longer waiting for news from Gaza; it isn't hoping for the moment Egypt, or the Arab League, or Qatari emir, or UN Secretary-General Ban Ki-moon, each in their turn and all together, will convince Hamas leader Khaled Mashaal to telephone his colleagues in Gaza and ask them to hold fire.

Someone has gotten somewhat confused here: Hamas is the one in need of understandings with Israel; not the other way around.

The second advantage is that Israel maintains its military freedom of action. This point needs to be clarified. Operation Defensive Shield, which essentially announced Israel's victory in the second intifada, ended in a unilateral declaration made by the Israeli government – a declaration which is quite similar to the one suggested here; Operation Cast Lead, which promised years of calm for the Gaza vicinity communities, ended in a one-sided announcement from the Israeli government as well. Operation Pillar of Defense, a year and a half ago, ended in understandings with Hamas, which were brokered by then-Egyptian president and Hamas' patron, Mohamed Morsi.

Defensive Shield was a big success; Cast Lead was a relative success; Pillar of Defense didn't end well, as the understandings made it easier to dig tunnels towards Israel. US President Barack Obama suggested this week that the operation should end with a return to the Pillar of Defense understandings. This proposal only sounds good. Israel must reject it out of hand.

In other words, understandings are like wind-driven chaff. The power of IDF operations is in the deterrence they create, not in the understandings reached at their conclusion. When it comes to Hamas, Israel should probably rely on deterrence rather than on an agreement.

A similar lesson can be drawn from the Second Lebanon War. It wasn't the agreement that the Israeli government reached with Hezbollah which gave Israel eight years of calm, but the deterrence created by the military activity, particularly the bombings. Hezbollah violates the agreement's clauses on a daily basis, but is careful not to launch missiles.

There are, of course, differences between one operation and another. At the end of Defensive Shield, the IDF remained in the heart of the West Bank, and it is still operating there today. IDF forces did leave the refugee camps and others places where they were prone to get entangled. When Prime Minister Ariel Sharon instructed them to do that, no one accused him of cowardice.

The number of casualties among the soldiers operating in Gaza surprised the decision makers: They didn't expect such resistance from Hamas; they didn't expect that after three days, the number of fallen soldiers would reach 30.

The numbers affect the state of mind on the Israeli street, but let's not go there. The problem is that the number of fallen soldiers turns into a Hamas achievement, and that's not good for Israel and not good for the Israelis' sense of confidence.

There is a danger that IDF will, more or less, exhaust its handling of the tunnels on the edges of the populated area. Any further progress, into a more populated area, will put the lives of additional commanders and soldiers at risk, and the cabinet will be afraid to leave as long as Hamas refuses to reach an agreement. This is the Gazan mud which Netanyahu and Ya'alon didn't want to sink into.

There an economic consideration as well. The decision made by American and European airlines to suspend flights to Israel is a serious blow, both to the economy and to Israel's image as a strong and secure country, as well as to our routine life. The nature of such a decision is that it prompts additional moves, including a possible drop in Israel's credit rating.

The Gaza issue requires a solution, with or without Hamas. It requires an unusual international effort, and cooperation between countries which don't recognize each other and officials who are currently not speaking to each other.

It's hard to see how such a coalition could be established within days. If it is established in the future, it would be wonderful. In the meantime, the Israeli government must care for its citizens.