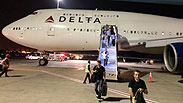 Delta Airlines plane
Photo: AP
Several North American and European airlines have cancelled their flights in and out of Israel's Ben-Gurion International Airport, after a rocket fired from the Gaza Strip landed near the airport Tuesday.
Shortly after Delta Air Lines , American Airlines Group and United Airlines cancelled their flights, the American FAA (Federal Aviation Administration) issued a notice prohibiting all US airlines of flying in or out of Ben-Gurion Airport for a period of up to 24 hours.
Heavy Toll
Damage to incoming tourism and hotel industry in third quarter of 2014 estimated at $500 million with 34% drop in number of foreign visitors.
"The FAA will continue to monitor and evaluate the situation. Updated instructions will be provided to US airlines as soon as conditions permit, but no later than 24 hours from the time the NOTAM went into force," the FAA said in a statement.

Delta Air Lines and United Airlines suspended service between the US and Israel indefinitely. US Airways scrapped its one flight to Tel Aviv Tuesday.
Delta's one daily flight was already in the air. A Delta Boeing 747 from New York was flying over the Mediterranean headed for Tel Aviv when it turned around and flew to Paris instead. Flight 468 had 273 passengers and 17 crew on board. US Airways and United flights that were scheduled to take off later in the day. A Delta spokesman declined to go beyond the details released in a statement.
Casey Norton, a spokesman for US Airways' parent company American Airlines, said the airline is "in constant contact with the FAA and are monitoring the situation closely." The airline has not yet made a decision about flights to Israel scheduled for Wednesday and beyond, he said.
Canada's largest airline has also canceled a flight to Israel.
Air Canada spokeswoman Isabelle Arthur said the flight Tuesday evening was canceled and they will continue to evaluate future flights.
Transport Canada spokeswoman Ashley Kelahear said decisions to cancel flights are made by the airlines themselves.
'Domino effect' reaches Europe
The North American airlines were soon joined by several European airlines
Air France suspended its flights to Israel "until further notice."
Dutch flag carrier KLM cancelled its Amsterdam-Tel Aviv flight on Tuesday. "We have cancelled our flight to Tel Aviv as a precaution because we can't secure passengers' safety," said KLM spokeswoman Joyce Veekman. "We'll review the situation every day."
Brussels Airlines has suspended flights Tuesday and three more planned Wednesday, said one of its spokesmen. "We're monitoring the situation on the spot and we will reassess the situation tomorrow," he told AFP.
The German company Lufthansa decided to halt flights to Israel for 36 hours. The decision also affects its Germanwings, Austrian Airlines and Swiss divisions.
"We are monitoring the security situation in Israel closely and we are in constant contact with responsible authorities as well as the airport in Tel Aviv (TLV). The safety of our passengers and our crew is our top priority," Lufthansa said in a statement.
Swiss International Air Lines has cancelled all flights to Tel Aviv on Tuesday and Wednesday.
"As a precautionary measure given the situation we are discontinuing our flights to Tel Aviv and continue monitoring the situation very closely," Swiss International Air Lines spokeswoman Susanne Muehlemann told Reuters.
The European Air Safety Agency has issued a "strong recommendation" to avoid Ben Gurion Airport until further notice.
Representatives from European airline companies in Israel said that they had no doubt that about what motivated their companies to cancel flights to Israel.
"The announcement from American companies created, in this case, a domino effect. In any case, the European teams weren't happy about the situation, and of course the hit in Yehud set off a wave of concern with or without connected to the incident with the Malaysian plane."
"The pressure put on the companies from the air crews played thier part. When the Americans decided to suspend the flights, the Europeans rushed to join them. This is a very rare decision," they said.
Earlier this month, Hamas has warned international airlines not to fly to Ben-Gurion Airport, saying they would target the airport.
"In the light of Israel's ... attacks on the residents of Gaza Strip ... The armed wing of Hamas movement has decided to respond to the Israeli aggression and we warn you against carrying out flights to Ben Gurion airport, which will be one of our targets today because it also hosts a military air base," the statement said.
El Al, Air Jordan continue regular flights
Israeli airline El Al, however, said it will continue operating as usual.

"El Al, as always, will continue regular flights from and to Israel. El Al will happily aid American companies, while still giving clear priority to passengers who purchased El Al tickets in advance," the company said in a statement.

Other airlines continue regular flights into Ben Gurion Airport. Royal Jordanian has been flying the Israel-US route for several years. Since the signing of the peace accord between Jordan and Israel, Royal Jordanian has never stopped flights to and from Israel, even in times of war.

It was the latest blow to Israel on a day when it announced that an IDF soldier went missing following a deadly battle in the Palestinian territory, where Israel is fighting Hamas militants in the third conflict in just over five years.

Palestinian terrorists have fired more than 2,000 rockets toward Israel, and several heading toward the area of Ben-Gurion Airport have been intercepted by the Iron Dome defense system, but police spokeswoman Luba Samri said Tuesday's landing was the closet to the airport since fighting began on July 8.

The rocket damaged a house and lightly injured one Israeli in Yehud, a Tel Aviv suburb near the airport, Samri said. As a result, Delta Air Lines and US Airlines decided to cancel their scheduled flights to Israel.

The Transportation Ministry called on the companies to reverse their decision and said it was trying to explain that the airport was "safe for landings and departures."

"Ben-Gurion Airport is safe and completely guarded and there is no reason whatsoever that American companies would stop their flights and hand terror a prize," it said in a statement.
Anxiety following Ukraine airplane disaster
However, international airlines and passengers are growing more anxious about safety since last week, when a Malaysia Airlines jet was shot down over Ukraine, killing all 298 people on board.
Aviation and legal experts said Tuesday that airlines are now taking risk assessment into their own hands, both for the safety of passengers and to avoid claims of negligence.
Aviation consultant Robert Mann said airlines are becoming more proactive in the wake of the Fligth 17 disaster.
"It's really forcing every carrier, every business jet operator to do their own due diligence, do their own risk assessment, given the geopolitical situation," Mann said.
Jonathan Reiter, a prominent New York aviation-accident attorney, said flying into an airport after a near-miss by a rocket could be used to show that the airline was negligent. That explains why airlines are suspending service to Israel.
"I'm sure it is human concern as well," Reiter said, "but I think (the airlines) feel it is wise to err on the side of caution because it is their burden to prove they are doing everything possible to avoid injuries and deaths."