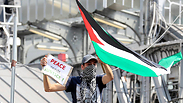 Anti-Israel protest in Paris. 'We see racist or anti-Semitic messages, very violent'
Photo: AP
As the war in Israel rages on, with Operation Protective Edge into its third week, the war online continues to intensify.

France, in particular, has seen some of the worst demonstrations and violence in condemning Israel's strike against Gaza, as anti-Israel demonstrators spent last weekend protesting, attempting to break into two Paris synagogues and vandalizing a kosher butcher shop.

As anti-Semitism in France has been a growing problem for its Jewish residents as of late, this year has seen the largest delegation of French Jews making aliyah to Israel.

Crossing the Line

European foreign ministers vow to do everything possible to combat violence over Gaza conflict in their countries. In Berlin, police ban pro-Palestinian protesters from chanting anti-Semitic slogan.

If the rallies and news reports aren't enough to confirm what is taking place there, the online forums and hate speech certainly is, with commentators relentlessly attacking Israel, holding what it seems to be a very strong bias against the Jewish state.

According to a new report from AFP, since Operation Protective Edge began two and a half weeks ago, leaving over 600 Palestinians and dozens of IDF soldiers dead, this brand of hate posted online has significantly increased in a country that boasts the largest Jewish and Muslim communities in Western Europe.

"As soon as you talk about Israel, it crystallizes all passions, with up to 20,000 or 30,000 comments sometimes after an article, of which we will only let 5% to 10% through," explained David Corchia, head of an online moderation company of which both Le Figaro and Liberation (French news publications) are clients.

Corchia says that as an online moderator, generally 25% to 40% of comments are banned. Moderators are assigned with the task of filtering comments in accordance with France's legal system, including those that are racist, anti-Semitic or discriminatory.

Regarding the war between the Israelis and Hamas, however, Corchia notes that some 95% of online comments made by French users are removed.

"There are three times as many comments than normal, all linked to the Israeli-Palestinian conflict," added Jeremie Mani, head of another moderation company Netino.

"We see racist or anti-Semitic messages, very violent, that also take aim at politicians and the media, sometimes by giving journalists' contact details," he added. "This sickening content is peculiar to this conflict. The war in Syria does not trigger these kinds of comments."

His last comment is particularly significant; as reports come in that 270 Syrians were killed in a massacre at the hands of ISIS, there is little heard around the rest of the world. Where are the rallies and demonstrations? The boycotts? The condemnations?

Mani notes that "without any moderation, these hate messages would invade everything, particularly as they quickly breed followers."

Reprinted with permission from Shalom Life .