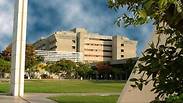 The Sheba Medical Center at Tel Hashomer
Photo: Sheba photography unit
A nurse of Arab descent was suspended this week after posting a public status on his Facebook page referring to IDF soldiers as "war criminals."

Prof. Zeev Rotstein, director of the Sheba Medical Center at Tel Hashomer, explained his decision to suspend the worker, saying that "even at times of peace and not just at times of a justified war in defense of the home front, falsely accusing the IDF of having war criminals as its soldiers is unacceptable, definitely not by an employee of the State of Israel."

Social Media

Rumors spread on social networks include number and names of troops killed in Gaza before army officially informs families.

The nurse, who works at the children's hospital, was summoned to a hearing after Rotstein had learned about his status, but failed to show up. He was then immediately suspended and the case was handed over to the Civil Service Commission for further disciplinary action.

"Sheba serves as an island of tolerance for its entire staff and visitors," Prof. Rotstein said. "Violating this value in such a blatant manner, particularly while the entire hospital is caring for soldiers and civilians, as well as for injured Palestinians and patients arriving from the Gaza Strip, cannot be ignored. Anyone violating the principle of tolerance does not belong with us."

Social networks have been abuzz in recent days with angry responses to posts condemning the IDF, some on behalf of hospital workers. Earlier this week, Ynet reported that a doctor at the Shaare Zedek Medical Center in Jerusalem had posted a cartoon of Prime Minister Benjamin Netanyahu as a vampire murdering Palestinian children.

A worker at the Hadassah Medical Center posted a status comparing the IDF's actions in Gaza to the atrocities committed by Nazi leader Adolf Hitler. Another post, published by a person who had worked at the hospital up to four years ago, expressed satisfaction at the death of 13 IDF soldiers within one night.

Health Ministry Director-General Prof. Arnon Afek instructed Israeli hospitals to maintain the coexistence in the health system and hold hearings for workers who cross the boundaries of freedom of expression.