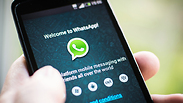 WhatsApp. Strong desire to receive real-time information claiming a heavy price
Photo: Shutterstock
The strong desire to receive and share real-time information about the Israeli operation in Gaza is claiming a heavy price from the families of IDF soldiers: The family members of one of the 13 Golani fighters killed during the ground operation in the Strip learned about his death from a WhatsApp message.

"His brother was at a meeting area near the Strip, after being called up by the army," says a relative of the fallen soldier. "Suddenly people started asking him what had happened, and that's how he found out about it.

Red Alert

Israelis have found a new way to learn of imminent rocket attacks from the Gaza Strip – mobile phone applications.

"The distribution of these messages is cruel and outrageous, and the person who spread it must be found and questioned," the relative added.

In the early hours of Sunday morning, rumors began spreading on social networks and the WhatApp mobile application about the number of IDF soldiers killed in overnight battles.

The relatives of another fallen soldier found out that he had died when they received a WhatsApp message in the afternoon, minutes before an IDF officer arrived to formally inform them of their loved one's death.

One of the distributed messages included the names of the fallen soldiers, which began spreading like wildfire on social networks. Another message included a picture of a burned armored personnel vehicle in which the soldiers were allegedly killed, and another had a picture of coffins.

One of the messages mentioned the name of a Golani Brigade officer who had been hospitalized in serious condition, claiming that he had died.

"As opposed to the messages, he was not killed but is suffering from a head injury," a friend of the family wrote to the residents of the fighter's community. "His situation is improving. We are asking people to pray for him, not to kill him."