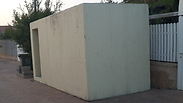 Portable shelter. 'A partial solution to the problem'
Photo: Herzl Yosef
KKL-JNF (Keren Kayemeth LeIsrael – Jewish National Fund) has raised some NIS 13.7 million ($4 million) from world Jews in recent days. According to the organization, about NIS 9 million ($2.6 million) were used to fund 160 portable shelters for Bedouin and Jewish communities in the Gaza vicinity against the ongoing rocket fire.

The town of Ofakim will receive a donation of 20 portable shelters, Bnei Shimon will get eight, Gan Yavne – 10, Sderot – 14, Naveh – 24, Bnei Netzarim – 15, Sdot Negev – eight, Eshkol – eight, Hof Ashkelon – eight, Merhavim – 10, Sha'ar Hanegev – eight, Netivot – 15, and the Bedouin sector communities (Lakiya, Segev Shalom, Rahat and Hura) will receive 12.

Show of Solidarity

We have an ability to counter all the terrible misinformation, lies and hatred that are spread about Israel. Doing so is not only our biblical obligation; it is in our own personal security interest as well.

"While Israel is under attack around the world, the world Jewry is organization solidarity rallies and showing unprecedented support for Israel through the KKL offices," said KKL-JNF World Chairman Efi Stenzler.

Ofakim Mayor Yitzhak Danino said, "We have a neighborhood which built in the 1990s for new immigrants, where the houses are made out of carton without an apartment protected space and without any safe areas one can enter.

"We are talking about 1,280 housing units built in this method, and the immigrants who inhabited the neighborhood are now people over the age of 70 who find it difficult to move and are completely helpless.

"The portable shelters stationed in the area will partially solve the problem. The residents there are living with a sense of complete insecurity. Placing the portable shelters is a dramatic and very important thing for them, and I am very happy and would like to thank KKL and the donor.

"There is a lot of need for aid in many areas, but the residents' personal safety comes first. We are witnessing an amazing move which will provide a sense of calm for dozens of families."

Sigal Moran, head of the Bnei Shimon Council, said that the portable shelters "could literally save lives and will contribute to every resident's feeling of security."

Segev Shalom Council head Aamer Abu Mu'amar thanked KKL on behalf of the council residents, workers and members. "I hope that the calm will return to our region and that peace will prevail for all our citizens."