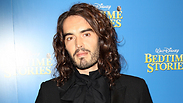 Russell Brand
Photo: Getty ImageBank
British comedian and movie star Russell Brand slammed Fox News anchor Sean Hannity after he claimed Israel had shown "too much restraint" in the Gaza conflict.

In an online video, Brand slammed Hannity and Fox for trivializing one of the "worst conflicts on the planet" and claimed Hannity's "vitriol and propaganda" was only exacerbating the situation.

"To them," Brand claimed about Fox, the conflict is " just a game… just entertainment, that's what I find most difficult," he said in the video.

In what seemed like a true appeal to Hannity, Brand called on Fox anchor by his first name and pled: "Sean, you are a human being, come back to humanity. You've lost yourself mate … try and speak from a perspective of love not from vengeance and hatred."

The spat between the two is not without context. According to HuffPost's UK branch, Brand invoked the anger of the Fox anchor after claiming Hannity looked like a Ken doll in an earlier video rant in which he ridiculed Hannity's interview technique.

In response, Hannity took to his program to call Brand "a D-list actor, better known for his failed marriage to Katy Perry."