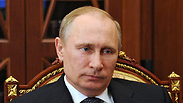 Putin to head large Russian delegation to Auschwitz
Photo: AFP
Russian President Vladimir Putin will head his country's delegation to the International Holocaust Remembrance Day ceremony at the Auschwitz-Birkenau death camp in Poland on January 27.

Some 70 presidents and prime ministers from around the world have already confirmed their participation in the 2015 ceremony, which will mark 70 years since the end of World War II.

Joint Effort

Russian president assures delegation of Israeli and European rabbis that his country will do everything possible to prevent recurrence of tragedy like Holocaust.

The International Holocaust Remembrance Day ceremony has been marked since 2006 on January 27, the day the Auschwitz camp was liberated by the Soviet army in 1945.

This year, as opposed to previous years, the ceremony will be prepared and organized in cooperation with the March of the Living educational program, which has been taking place annually on Israel's Holocaust Remembrance Day in April, on the day the Warsaw Ghetto uprising began in 1943.

March of the Living Chairman Dr. Shmuel Rosenman and Director Aharon Tamir are responsible for the program's participation in this year's international ceremony. Tamir, who returned from Poland recently, says he expects an exceptional ceremony at Auschwitz this year.

Nearly 1.4 million prisoners were murdered in Auschwitz, including 1.2 million Jews, 85,000 Poles, 23,000 gypsies and 30,000 Soviet prisoners of war, who were the first to be sent to the camp, which was built inside Polish army barracks.

The Auschwitz II-Birkenau camp was built in order to deal with the huge amount of prisoners brought in from across Europe on a daily basis. It was much larger and had gas chambers added to it later on.

According to estimates, two-thirds of the Jews who arrived at Auschwitz-Birkenau were murdered immediately upon their arrival. The rest were transferred to one of the 44 sub-camps, where they were enslaved until they died.

Putin's arrival as the head of a large Russian delegation is already creating a lot of pressure among the Polish organizers in terms of the security arrangements and logistics. A huge tent will be set up for the main ceremony at Birkenau, alongside smaller tents for the many guests expected to attend the event.

A spokesman for the Auschwitz Memorial Press Office, however, denied the report, saying: "There is no information about possible presence of the president of the Russian Federation during the anniversary. The additional news about 70 heads of states who 'already confirmed their participation' is completely false.

"The preparation of the commemoration event on January 27, 2015 is of course in progress, but it is far too early for any official statements."