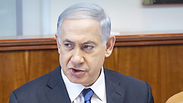 Prime Minister Benjamin Netanyahu
Photo: Emil Salman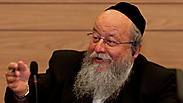 MK Moses. 'How can a religious party sit in a government which desecrates Shabbat?'
Photo: Dudi Vaknin
Ultra-Orthodox officials have accused the Prime Minister's Office of desecrating Jewish holy days by briefing the press in the middle of the Rosh Hashanah holiday and the following Shabbat and commenting on reports about diplomatic affairs involving Israel.

The haredi sources say they are holding Prime Minister Benjamin Netanyahu responsible for "disrespecting the Sabbat and holiday."

Bright Side

Mouthpiece of Lithuanian leader Rabbi Shteinman finds positive side to rocket attacks on Tel Aviv, noting that city's 'cafés, supermarkets and restaurants were completely empty' over weekend.

Sources in the Prime Minister's Office commented during the holiday on the International Atomic Energy Agency's rejection of a bid urging Israel to join the join the Non-Proliferation Treaty and on Palestinian President Mahmoud Abbas' address to the United Nations General Assembly, in which he accused Israel of committing a planned genocide against the Palestinians.

The haredi parties, which are part of the opposition, are incapable of causing a coalition crisis but are expecting the government's religious members to protest the matter at the very least. They also see this as another opportunity to attack Bayit Yehudi Chairman Naftali Bennett and accuse him of compromising his religious principles for the privileges of being a minister.

Knesset Member Menachem Eliezer Moses, chairman of the United Torah Judaism faction, told the Behadrey Haredim website, which uncovered the affair: "We know very well why we chose not to join such a coalition, which crushes every trace of Judaism.

"We are very puzzled by the silence of the Bayit Yehudi representatives," he added. "How can a religious party sit in a government which repeatedly desecrates Shabbat and keep silent?"