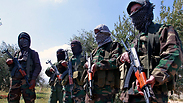 Hezbollah fighters. Next encounter could drag both sides into an unplanned war
Photo: AP
The incident which took place Sunday on the Lebanese border can be seen as a discrete incident in which a Golani force stationed on Mount Dov spots a cell, while at that stage it was still unclear whether it belonged to the Lebanese army or to Hezbollah, which has recently strengthened its relations with the local army.

Fighters of the Egoz Reconnaissance Unit spotted a cell crossing the international Blue Line, which is not marked by a fence, and opened fire on it. Lebanon reported that one person had been wounded, and mainly that Israel had violated its sovereignty.

Winter is Coming

Analysis: What worked in fight against Hamas might not be enough in fight against Nasrallah. To deal with 100,000 rockets and thousands of Hezbollah fighters gaining precious operational experience on Syrian battlefields, IDF needs a budget increase.

The IDF is comparing the current infiltration to the infiltration of the Syrian fighter jet which was shot down two weeks ago, but it should actually see this incident as part of a long series of incidents which have taken place in the past year on the northern border – both in Lebanon and in Syria – and have Hezbollah's name written all over them, and realize that the Shiite organization has changed the rules of the game.

The borderline is changing before our eyes, and we can detect an increased presence of Hezbollah activists, some in uniform and some unarmed. We can see many more flags at the villages close to the fence and mainly a new Hezbollah policy which is even succeeding in deterring Israel.

There is a reason, it seems, why we are not hearing from the foreign media about Israel Air Force strikes against weapon smugglings from Syria to Lebanon. Last February, a convoy transferring advanced antiaircraft missiles from Syria to Lebanon was attacked from the air near the town of Jenta on the Lebanese side of the border. Hezbollah Secretary-General Hassan Nasrallah, through one of his associates in the press, clarified that he would not ignore what he defined as "Israel's changing of the rules of the game" after Israel reportedly struck on Lebanese territory rather than in Syria.

Since then, we have seen a series of terror attacks against IDF forces in the Lebanon area and on the northern part of the Israel-Syrian border. Hezbollah has not claimed direct responsibility for these attacks, but its involvement in them is crystal clear.

In March, two explosive devices were detonated against an IDF convoy on Mount Dov, each containing 20 kilograms of explosives. This incident could have easily resulted in four dead soldiers and dragged Israel into an undesirable war.

Later on, an attempt was made to target the IDF's Paratroop 202nd Battalion with an explosive device on the Syrian border. In this case too, it was sheer luck that no soldiers were killed in the incident, although several were wounded. At the same time, three other incidents without any casualties flew under the media's radar.

It's true that Hezbollah is busy fighting in Syria right now, and also has internal problems with global jihad organizations which are threatening to gain control of parts of Syria and Lebanon, but even as we speak the organization is succeeding in challenging Israel and changing the balance of deterrence.

While the IDF was engaged in budget wars, failed to build its power, failed to train its reserve forces and failed to properly equip itself for the next war on the northern front, Hezbollah did the exact opposite.

Hezbollah, according to experts in the Military intelligence Directorate, is at its highest level of preparedness right now. Apart from the 100,000 rockets it has stocked up on, one-third of its regular force – about 5,000 fighters – is fighting in Syria and gaining huge operational experience in the field of urban warfare. Its men are training in rocket launching and bringing different developments into Lebanon.

One of the weapons transferred to Lebanon, for example, are short-range Borkan missiles which Syrian President Bashar Assad used to crush neighborhoods and can reach a range of up to 7 kilometers (4.35 miles). The warhead of each one of these missiles can be armed with hundreds of kilograms of explosives, so that the damage inflicted on the confrontation line communities and the IDF headquarters on the northern border will be completely different from the damage caused by mortar shells fired by Hamas from the Gaza Strip.

So even if Hezbollah is not interested in launching a war at this time, the series of incidents in the north must be taken seriously. We must remember that Hezbollah planned the Second Lebanon War as well, regretting it later on, and that Hamas was also dragged into the war in Gaza without really wanting it.

The IDF, therefore, must raise its level of preparedness and draw conclusions from Operation Protective Edge as soon as possible, so that the next encounter won't lead to an unplanned war.