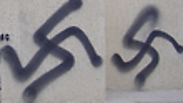 'An abhorrent act and an offense against the entire university' (archives)
Photo courtesy of Chabad Info
Swastikas were found painted on the exterior of a historically Jewish fraternity house at Emory University in metro Atlanta over the weekend, according to police and university reports, and officials said the vandalism would not be tolerated as they stepped up patrols at the private school.

The Alpha Epsilon Pi house was targeted early Sunday morning, shortly after the end of the observance of the Jewish holiday Yom Kippur, Emory officials said.

Hateful Slogans

With slogans such as 'With Jews We Lose' and demands to end American aid to Israel, Kentucky man Robert Ransdell is trying to run for US Senate.

University President James Wagner sent a statement Sunday night to students and others on campus, calling the "abhorrent act" an offense against the entire university.

"Among the many pernicious things the swastika symbolizes, in the last century it represented the most egregious and determined undermining of intellectual freedom and truth-seeking," Wagner said in the statement. "In short, its appearance on our campus is an attack against everything for which Emory stands."

Campus officials were meeting with student leaders to provide support and determine next steps, the statement said.

By Sunday night, the swastikas had been painted over, and officers were patrolling in front of the fraternity house, WSB-TV reported.

Alpha Epsilon Pi is a global Jewish fraternity with headquarters in Indianapolis, according to a description on its website.

Emory is a private school of 14,500 students just outside the city limits.

Between 2011 and 2013, there were 120 reported anti-Semitic incidents on US college campuses, ranging from anti-Jewish speeches to acts of vandalism, according to the Anti-Defamation League, a Jewish group that tracks such incidents.

"The rising tide of anti-Semitism and anti-Israel activity on college campuses is widespread and must be stopped," the Alpha Epsilon Pi fraternity said in a statement.

"Universities are a place for the free and open exchange of ideas and Jewish students should not be made to feel unsafe in their homes on campuses."

ADL said the impact of this vandalism on the fraternity members and the entire Emory community is a reminder of the need for the Georgia legislature to pass hate crime legislation.

Georgia is one of only five states in the country that does not have a hate crimes law on the books. Passing this legislation sends a strong message that these types of crimes will not be tolerated, the Jewish group concluded.

The Associated Press and Reuters contributed to this report.