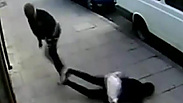 Jew attacked in 'knockout game' in New York (archives)
VIDEO - The total number of anti-Semitic incidents in the United States fell by 19% in 2013, continuing a decade-long downward slide and marking one of the lowest levels of incidents reported by the Anti-Defamation League (ADL) since it started keeping records in 1979, the Jewish group said in a statement Tuesday.

ADL's annual Audit of Anti-Semitic Incidents reported a total of 751 incidents across the US during the 2013 calendar year, representing a 19% decline from the 927 incidents reported during the same period in 2012. In 2013, anti-Semitic incidents were reported in 41 states and the District of Columbia.

Video courtesy of jn1.tv

"In the last decade we have witnessed a significant and encouraging decline in the number and intensity of anti-Semitic acts in America," said ADL National Director Abraham H. Foxman. "The falling number of incidents targeting Jews is another indication of just how far we have come in finding full acceptance in society, and it is a reflection of how much progress our country has made in shunning bigotry and hatred."

Anti-Semitic Bullying

Oregon high school students kidnap fellow student, shoot him with a BB gun and recreate scene from the movie 'Inglorious Basterds.'

The annual ADL Audit includes incidents of assault, vandalism and harassment targeting Jews and Jewish property and institutions and includes both criminal and non-criminal incidents reported to ADL's 27 regional offices across the country and to law enforcement.

While the total number of anti-Semitic incidents declined overall, one dark spot in the numbers was a significant increase in violent anti-Semitic assaults. The Audit recorded a total of 31 anti-Semitic assaults on Jewish individuals or those perceived as Jewish in 2013, up from 17 in 2012.

The reported assaults included: An unprovoked attack on a 24-year-old Jewish man wearing a yarmulke by four men in Brooklyn, NY; an assault of a 12-year-old Jewish girl who had a bottle thrown at her by a group of girls, including one who yelled, "You dirty Jew"; and the attack of a Jewish man in Los Angeles, CA, who was surrounded by five male suspects who yelled "Heil Hitler!" before striking him.

None of the assaults was life threatening or required hospitalization.

"The high number of violent in-your-face assaults is a sobering reminder that, despite the overall decline in anti-Semitic incidents, there is still a subset of Americans who are deeply infected with anti-Semitism and who feel emboldened enough to act out their bigotry," said Foxman. "Such incidents are often among the most traumatic for individuals as they involve person-on-person violence."

In recent years, the ADL Audit has placed anti-Jewish incidents into one of three categories: Assault, vandalism or harassment. In 2013, the numbers broke down as follows:
Assaults: 31 incidents reported in 2013, compared with 17 in 2012;
Vandalism: 315 incidents in 2013, compared with 440 in 2012;
Harassment, threats and events: 405 incidents in 2013, compared with 470 in 2012.

"We must remember that there are people behind every one of these numbers, and every incident represents one person or an entire community affected by the trauma of anti-Semitism," said ADL National Chair Barry Curtiss-Lusher. "Every swastika scrawled on a school or rally held by a racist group demands a response – by law enforcement, by the community, and by public officials – to ensure that we reinforce the message that anti-Semitism is unacceptable in society."
State-by-state totals
While the number of anti-Semitic incidents in the US decreased in 2013, ADL recorded increases in some states when compared with 2012 figures, such as in Connecticut, Michigan, Ohio and Texas. Additionally, continuing a consistent trend for many years, the states with the highest totals were those with large Jewish populations.
Once again, New York and California, while each experiencing declines compared to the previous year, topped the list:
New York State, with 203 incidents in 2013, down from 245 in 2012;
California, with 143 incidents, down from 185;
New Jersey, with 78 incidents, down from 173;
Florida, with 68 incidents, down from 88;
Massachusetts, with 46 incidents, up from 38;
Pennsylvania, with 43 incidents, up from 37.

Internet hate a factor, but remains unquantifiable
General anti-Jewish expressions on the Internet, while possibly playing a role in fomenting real-world anti-Semitism, are not counted for the purposes of the Audit unless they target a specific individual.
"The explosion of viral hate is impossible to quantify, but should not be ignored," said Foxman. "The Internet provides racists and bigots with an outlet to reach a potential audience of millions, and we suspect that it has also led many to take their opinions online rather than leafleting entire neighborhoods. So, that may have an impact on the Audit's findings, which measure real world incidents as opposed to viral hate, which is impossible to quantify given its proliferation on the Internet and on social media."
Quiet year for anti-Israel activity
One reason for the decline in figures was a relatively quiet year for anti-Israel activity in the public sphere compared to previous years when military conflicts involving Israel – such as the 2006 war against Hezbollah in Lebanon and military campaigns in Gaza to thwart Hamas rocket attacks – spurred hundreds of demonstrations in major cities across the US that sometimes featured blatantly anti-Semitic slogans, signs and rhetoric.
"Because anti-Semitism has found its way into the periphery of the anti-Israel movement in recent years, a decrease in the number of anti-Israel demonstrations on campus and elsewhere translated to a decrease in the anti-Semitism that can accompany such events," said Foxman.
While the Audit does not categorize criticism of Israel or Zionism as an anti-Semitic incident, such reports are included if they cross the line from legitimate criticism to anti-Semitism by invoking classic anti-Jewish stereotypes or inappropriate Nazi imagery and/or analogies. Public expressions of anti-Israel sentiments that demonize Jews or create an atmosphere of fear or intimidation for US Jews are counted.
Selected incidents in 2013: Anti-Semitic assaults
ADL reported 31 anti-Semitic assaults on Jewish individuals (or individuals perceived as Jewish) in 2013, up from 17 in 2012. Incidents involved the use of physical force and/or violence, spitting and thrown objects. The following is a list of selected instances of anti-Semitic assault in 2013:
Stoneham, Massachusetts: A man had his shoulder injured by a co-worker who had made disparaging remarks toward him for being Jewish. (January)
Brooklyn, New York: A 12-year-old Jewish girl had a bottle thrown at her by a group of girls, including one who yelled, "You dirty Jew. I'll get you back. F---, these Jews should leave the neighborhood." This girl also pulled the victim's hair and put her in a choke hold before punching her in the back. (June)
Los Angeles, California: Five male suspects approached a Jewish victim, telling him "F---ing Jews! Heil Hitler! Heil Hitler! Heil Hitler!" before punching him in the throat. (June)
Kaser, New York: Three people were charged with hate crimes after shooting paintballs from their car at a Hasidic man who suffered a minor injury from the incident. The victim said someone in the car also shouted an expletive about Jews. (August)
Brooklyn, New York: A 24-year-old Jewish man wearing a yarmulke was attacked by four men in Borough Park as part of the "knockout game." (November)

Selected incidents in 2013: Anti-Jewish vandalism
The ADL Audit recorded 315 cases of anti-Semitic vandalism in 2013, down from 440 in 2012. Vandalism incidents are individually evaluated by ADL and are categorized as anti-Semitic based on the presence of anti-Semitic symbols or language; the identity of the perpetrator(s), if known; and the target of the vandalism and its proximity to Jewish homes, communities and institutions.
The 2013 audit includes in its totals swastikas that targeted Jewish property or communal institutions. Swastikas targeting other minorities or those used out of context simply for shock value were not counted. In 2013, a total of 236 incidents were reported across the country involving the use or display of swastikas targeting Jews.
The following is a list of selected instances of anti-Semitic vandalism in 2013:
Hempstead, New York: A swastika and the phrase "Death to the Jews" were scrawled in large red letters in the service corridor of a mall. (January)
Santa Maria, California: A swastika was drawn on the door of a synagogue. (February)
Natick, Massachusetts: A man with a Jewish day school bumper sticker on his car found the word "Jew" keyed into the trunk in large letters, each about a foot long. (March)
Jackson, Mississippi: Windows of a synagogue were broken and the word "JEW" was carved into the door. (May)
Dallas, Texas: A swastika was spray painted on an Israeli flag that was displayed on private property. (June)
Los Altos, California: "HITLER DID WELL" was spray-painted across a barrier along a major highway road. (July)
Rapid City, South Dakota: A Jewish man discovered a swastika painted on the window of his car that was parked in his driveway. (September)
Hamden, Connecticut: Approximately 30 gravestones were knocked over at a Jewish cemetery, causing some $5,000 in damage. (September)
Cherry Hill, New Jersey: "Hitler" was spray painted on the sign of a synagogue. (November)
Salt Lake City, Utah: A menorah outside of a Chabad House was vandalized. The perpetrators ripped off three of the candle branches. (December)

Selected incidents: Harassment, threats, events
The ADL Audit recorded 405 cases of anti-Semitic harassment in 2013, down from 470 in 2012. Incidents included verbal attacks and slurs against Jewish individuals (or individuals perceived to be Jewish); anti-Semitism conveyed in written or electronic communications, including anti-Semitic cyberbullying; and anti-Semitic speeches, picketing or events. The following is a list of selected instances of anti-Semitic harassment in 2013:
St. Louis, Missouri: More than 20 hand-carved wooden Stars of David were found on the sidewalk with conspiratorial anti-Semitic messages on them such as "Israel did 911." (February)
Clarksville, Maryland: A woman received a comment on her blog in which someone wrote that he was "pro-choice on the issue of jew extermination" and "Have a nice day yid!" (March)
Houston, Texas: A caller left messages on the answering machines of two Houston synagogues stating that Jews are "not white" and if they didn't stop controlling the world, he would bomb the synagogue. (April)
Detroit, Michigan: Nation of Islam leader Louis Farrakhan spoke at a Detroit church, telling the audience, which included a US Congressman and other public officials, that the "Satanic Jews" and the "Synagogue of Satan" control America's government and other sectors. (May)
New York, New York: A man held a sign with a swastika and the statement, "Israel much worse than the Nazis" at the "Al Quds Day 2013" rally in Times Square. (August)
Goleta, California: A woman in a retirement home was called a "Christ killer" and "Satan" by a colleague. (September)
Palm Beach County, Florida: A vicious anti-Semitic voicemail, in which an individual stated he would have gladly used gas chambers during the Holocaust to "kill you God damn greedy ass Jews. I hate you Jews so bad," was left on the answering machine of a major Jewish organization in South Florida. (September)
West Hartford, Connecticut: A Holocaust survivor received leaflets at her home that denied the Holocaust. (October)

Selected incidents: Anti-Semitism on campus
The ADL Audit reported a significant decrease in anti-Semitic incidents on campus for 2013. A total of 37 incidents were reported on college campuses, compared with 61 such incidents in 2012. The following is a list of selected anti-Jewish incidents that took place on campuses in 2013:
New Haven, Connecticut: Graffiti was discovered in a university building that threatened the college's Center for Jewish life with arson on May 16. (April)
Atlanta, Georgia: New Black Panther Party's then-chairman Malik Zulu Shabazz spoke at two colleges in Atlanta where he invoked anti-Semitic themes of Jewish financial control and manipulation. (April)
Ithaca, New York: Two members of a Jewish fraternity woke to find "Heil Hitler," "666," and a swastika in dripping red paint defacing their door. (April)
Boston, Massachusetts: A swastika was drawn on the whiteboard of a dorm room in which two Jewish students lived. (October)
Philadelphia, Pennsylvania: A freshman discovered two drawings on her dorm's refrigerator: A swastika and a caricature of herself hanging from a noose. (November)

Anti-Semitic bullying among children, teens
ADL continues to receive a troubling number of complaints about children, adolescents and teenagers engaging in anti-Semitic behavior, both on and off school grounds. These incidents include physical assaults, threats of violence, and verbal and written taunts promoting anti-Semitic stereotypes or evoking disturbing Holocaust themes.
The following is a list of selected incidents in 2013 that represent anti-Semitic bullying of children, adolescents and teenagers by their peers:
Miami-Dade, Florida: An elementary school student was bullied by another student who said things like "I am going to kick your white Jewish a--" and "I love Hitler…too bad he didn't get to kill all the Jews." (January)
Milwaukee County, Wisconsin: A high school student walking down the hallway had a quarter thrown at him by someone who asked, "Aren't you going to pick that up, you Jew?" (April)
Cleveland, Ohio: A girl was subject to anti-Semitic remarks directed at her – including "Heil Hitler" – to the point where she no longer wanted to return to that school. (May)
East Lansing, Michigan: A Jewish student had a swastika carved into her locker. (May)
Lehigh Valley, Pennsylvania: A Jewish student was physically assaulted by another student who also spit on him and called him a "fat Jew." (October)
Fairfax, Virginia: A middle school boy was told by another student, "We are going to have the German army come kill you." The same student made other explicitly anti-Semitic remarks to him in the past as well. (October)