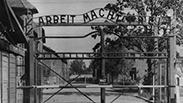 Auschwitz. 'We want to show how huge the world memory map is'
Photo: AP
The Auschwitz-Birkenau State Museum has launched a special website dedicated to the upcoming 70th anniversary of the liberation of the German Nazi concentration and extermination camp.

One of the site's features is the Map of World Remembrance, where the museum plans to mark all commemorative events which will take place on January 27, 2015.

Never Forget

Steven Spielberg, Ronald Lauder and Haim Saban join organization of memorial ceremonies marking 70th anniversary of Auschwitz-Birkenau liberation.

"The major commemorations of the 70th anniversary of the liberation of Auschwitz are going to be held in front of the Death Gate of the former Auschwitz II-Birkenau camp," the website states.

"In many other countries, on that day – which for 10 years has been International Holocaust Remembrance Day – many significant events are to take place, including conferences, exhibitions, celebrations, meetings. This will be an extraordinary symbol of the fact that people all over the world still keep in their hearts the memory of the tragedy of Auschwitz and of its victims. We want to show how huge this world memory map is."

According to Dr. Piotr M.A. Cywiński, director of the Auschwitz-Birkenau State Museum, the 70th anniversary won't be the same as the previous round anniversaries.

"We want to make a clear statement: It's the last round anniversary to be commemorated in the presence of a large group of survivors," he says. "Until now, it has been them who have taught us how to look at the tragedy of the victims of the Third Reich and the total destruction of the world of European Jews.

"Their voices have become the most important warning against the human capacity for extreme humiliation, contempt and genocide."