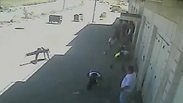 Video footage shows shooting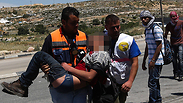 Incident leads to international anger
Photo: EPA
Live ammunition was allegedly used by security forces in a deadly shooting incident at Beitunia during Nakba Day protests last May in which two Palestinians were killed, an ongoing investigation into the case has revealed.
At issue is a clash between Israeli troops and Palestinian stone-throwers May 15 near the West Bank town of Beitunia, a few hundred meters from an Israeli military base, Ofer. On that day, Palestinians marked the anniversary of their uprooting in the war over Israel's 1948 creation by holding marches and protests in the West Bank and Gaza.
Video: B'tzelem (בצלם )
According to a source involved in the investigation, a security force was arrested for his role in the death of the protesters and another from the same unit was taken in for questioning.
Lt. Col. Peter Lerner, a senior spokesman, said at the time that preliminary findings show forces fired only rubber-coated steel pellets, a standard means of crowd control, and did not use live fire.
Related stories:
The incident sparked a wave of anger at Israel, after a human rights group released video it said showed that the Palestinian teenagers shot dead by security forces during a Nakba protest had posed no danger to the forces and were killed unlawfully.
The IDF said a preliminary investigation indicated that security personnel had fired rubber bullets but not live ammunition during the May 15 clashes outside Israel's Ofer prison near the West Bank city of Ramallah.
But it said two investigations - one by military police - were still under way while a senior Palestinian official called the killings a "deliberate execution".
Palestinian hospital officials said Muhammad Abu Thahr and Nadim Nuwara had both been shot in the heart. Officials originally gave their respective ages as 22 and 17, but later said they were 16 and 17.
Defense for Children International (DCI) posted two minutes of video on YouTube, which it said was edited from fixed security cameras at a Palestinian-owned business that had filmed the scene.
The video shows, the group said, that troops committed "unlawful killings where neither child presented a direct and immediate threat to life at the time of their shooting".
Under Israeli rules of engagement, troops can use live ammunition only if they feel they are in mortal danger or if they are fired on themselves.
Initial video shows a youth preparing to hurl a stone from the end of a street, which runs alongside a row of shuttered shops. Seven minutes later, according to a timestamp on the film, a young man is seen falling over, felled by apparent gunfire, as he walks down the street, his hands by his side.
A group of bystanders are seen to duck at the same moment.
Yoaz Zitun, Elior Levy and Associated Press contributed to this report