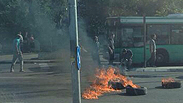 Protests on Nakba Day
Photo: Yossi Nahmia
A human rights group released video on Tuesday which it said showed that two teenage Palestinians shot dead by Israeli security forces during a protest last week had posed no danger and were killed unlawfully.

The IDF said a preliminary investigation indicated that security personnel had fired rubber bullets but not live ammunition during the May 15 clashes outside Israel's Ofer prison near the West Bank city of Ramallah.

Protesters shot on Nakba Day ( )

But it said two investigations - one by military police - were still under way while a senior Palestinian official called the killings a "deliberate execution".

Related Stories

Palestinian hospital officials said Muhammad Abu Thahr and Nadim Nuwara had both been shot in the heart. Officials originally gave their respective ages as 22 and 17, but later said they were 16 and 17.

Defense for Children International (DCI) posted two minutes of video on YouTube, which it said was edited from fixed security cameras at a Palestinian-owned business that had filmed the scene.

The video shows, the group said, that troops committed "unlawful killings where neither child presented a direct and immediate threat to life at the time of their shooting".

Under Israeli rules of engagement, troops can use live ammunition only if they feel they are in mortal danger or if they are fired on themselves.

Initial video shows a youth preparing to hurl a stone from the end of a street, which runs alongside a row of shuttered shops. Seven minutes later, according to a timestamp on the film, a young man is seen falling over, felled by apparent gunfire, as he walks down the street, his hands by his side.

A group of bystanders are seen to duck at the same moment.

An hour later, a second youth collapses to the ground as he walks away from the area, which is by now largely deserted, his back turned to the scene of the earlier confrontations.
'Question marks'
A shopkeeper interviewed by the DCI said he heard four live rounds fired during the demonstration.

IDF spokesman Lieutenant-Colonel Peter Lerner said on Tuesday that only riot-dispersal means, including tear gas and rubber bullets, were used to quell the protest.

"However, there are still question marks around this incident and there is an ongoing investigation. In parallel a military police investigation has also been opened," he said.

Brad Parker, an attorney for DCI, said the footage had been edited from six hours of surveillance video taken by three privately owned security cameras.

Parker could not rule out the possibility that the Palestinians who were killed had been involved in earlier violence at the scene.

"The broader context is there were clashes," Parker told Reuters. "It's difficult to tell if they were throwing stones, (but) at the exact moment they were shot they weren't active."

Senior Palestinian official Hanan Ashrawi said in a statement that the use of "excessive and indiscriminate violence" constituted a war crime and called on world powers to hold Israel accountable for "extrajudicial killings".

The killings took place during protests across the West Bank on Nakba Day, when the Palestinians mark the loss of their homes in the 1948 war that resulted in the creation of the state of Israel and the flight of hundreds of thousands of Palestinians.