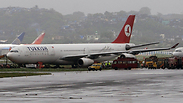 Turkish Airlines. Number of passengers from Israel on the rise
Photo: AFP
Turkey's leading tourism association has announced 2015 as the "Year of Jerusalem" and is planning to bring some 100,000 Turkish tourists to the Israeli capital as a contribution to peace in the city.

Speaking in the midst of heightened tensions in the Middle East, Başaran Ulusoy, head of the Association of Turkish Travel Agencies (TÜRSAB), told the Hurriyet Daily News that "one of the synonyms of tourism is peace. We want to make a contribution to maintaining peace in Jerusalem by increasing the number of tourists there."

Tourism Survey

Amit Cotler, Attila Somfalvi

Survey conducted on backdrop of Gaza conflict reveals 66% of Israelis cancelled or postponed their summer vacations, only 4% believe Israelis can still visit Turkey despite security situation.

According to Ulusoy, only some 15,000 Turkish tourists visited Jerusalem since the beginning of 2014.

"We want to increase this number to 100,000 in 2015 by preparing special package tours to Jerusalem with the help of the promotional activities of the Tourism Ministry," he said. "Turkey's airline companies should also start discounted flights to the city, and in this way we can reach our 2015 target."

Meanwhile, the Israel Airports Authority (IAA) released the Ben-Gurion Airport international passenger traffic report Monday, which reveals that Turkish Airlines remains the leading foreign airline in Israel and that Istanbul's two airport (Ataturk and Sabiha) have the largest number of passengers to and from Israel (820,000) after New York City's airports (JFK and Newark with 1 million passengers) and before Paris' airport (687,000 passengers).
25% increase in Turkish Airlines passengers
The report further reveals that El Al Israel Airlines carried a bit more than 4 million passengers from January to October 2014, an 8% increase from the same period last year. It was followed by Turkish Airlines with 583,128 passengers – a 25% growth.

After a slight slowdown during and after Operation Protective Edge, Turkish Airlines resumed its regular activity on the Tel Aviv-Istanbul route and even increased the number of flights. It should be noted that most of the Turkish airline's passengers continue on connecting flights from Istanbul to destinations in Europe, North American and the Far East.

Furthermore, according to the October figures, Turkish Airlines has maintained the first place among foreign airlines, presenting a growth of more than 4.5% in the number of passengers compared to October 2013.

Meanwhile, many other airlines – including United Airlines, Air France, British Airways, Austrian Airlines, Iberia, KLM, Royal Jordanian, SAS, Swiss and Delta – experienced a drop in the number of passengers to and from Israel.

Arkia Israeli Airlines came in third with some 490,000 passengers on international flights from January to October 2014 – a 2.8% growth from the same period last year.

easyJet ranked fourth with 430,000 passengers, a 50% increase. Part of the growth stems from the addition of destinations. The low-cost airline currently offers flights from Tel Aviv to two airports in London, to Manchester, Geneva, Basel, Rome, Milan and Berlin. The company is marking five years of activity in Israel these days and has carried more than 1.4 million passengers throughout that period.

German's Lufthansa airline came in fifth with 324,320 passengers, a 5% increase from the first 10 months of 2013.

The IAA report reveals that a total of 12,408,030 passengers have passed through Ben-Gurion Airport since the beginning of the year, a 6.65% increase from the same period in 2013. The figure points to a slowdown compared to a 16% rise in the number of passengers who passed through Israel's international airport in the first half of the year, but 2014 is still expected to be a record year in the airport's international activity.

The report further shows that the most popular destination in direct international flights was the United States with some 1.3 million passengers, followed by Turkey with 1.14 million passengers, Germany with 950,000 passengers, Italy with 883,000 passengers and Russia with about 860,000 passengers. The figures refer to the traffic of both Israeli and foreign passengers.