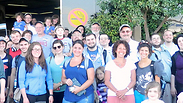 Olim from North America. 'Their aliyah insures Israel's future, society and security' (archives)
Photo courtesy of Nefesh B'Nefesh
NEW YORK – While Israel is experiencing a wave of terror attacks and violent clashes between Jews and Arabs, American Jews are showing a growing interest in Zionism and making aliyah.

More than 500 people, mostly US Jews in their 20s, arrived Monday at Nefesh B'Nefesh's Impact Israel conference in the heart of Manhattan.

Aliyah Stats

Some 24,800 immigrants arrived in Israel this year, breaking a five-year record. Increase linked to growing anti-Semitism, Ukraine crisis.

Despite the tensions in Jerusalem and the past summer's war in Gaza, these young people have not given up on their dream to become Israelis. On the contrary. according to the Nefesh B'Nefesh (NBN) organization, which is exclusively responding for immigration to Israel from North America, the candidates are not deterred by the situation and actually see it as a challenge.

"Since Operation Protective Edge, we have seen a rise in requests and the interest in aliyah," said NBN Vice Chairman Erez Halfon. "It's very encouraging to see this desire, now of all times, to make aliyah and strengthen Israel.

"The hundreds of young New Yorkers who participated in the conference filled us with optimism," he added. "Their aliyah insures the future of Israel, its society and security."

The New York conference was organized by NBN in cooperation with Israel's Ministry of Aliyah and Immigrant Absorption, the Jewish Agency for Israel, Keren Kayemeth LeIsrael and JNF-USA, and geared toward Jewish students and young professionals from the Tri-State area seeking to advance their professional and educational careers in Israel.

Impact Israel included discussions on breaking into diverse fields in Israel, from high-tech to politics to social work, sessions with Israeli employment counselors, networking sessions, and informational lounge conversations with aliyah advisors and olim.

Particularly popular was the Israel Defense Forces stand, which presented potential olim with the different service tracks available to them. The growing interest is believed to stem from the past summer's fighting and the loss of lone soldiers (those who immigrated without immediate family and served in the IDF) in battle, which strengthened the feeling of fate shared by Israel and the Diaspora Jewry.

Amongst various information-packed sessions, the event at the Convene conference center featured six outstanding olim who shared their extraordinary Israel success stories.

"If there is something I regret, it's not making this move 10 years ago," said Josh Hantman, an advisor to the Israeli ambassador in Washington.

The conference comprised breakout sessions on how to thrive professionally in Israel, sessions on the benefits of aliyah, a discussion of life in the IDF, and an Israeli university marketplace exploring options to acquire a free graduate degree.

In addition to the breakout sessions, participants held informal meet-ups with past and future lone soldiers, alumni of the MASA Israel Experience program, entrepreneurs and others.

Nefesh B'Nefesh was founded in 2002 by Rabbi Yehoshua Fass and businessman Tony Gelbart, and has since helped bring some 40,000 immigrants from North American to Israel.

Monday's conference was the first which included young Jews who have already made aliyah from the US and Europe, in a bid to convince others to follow in their footsteps.