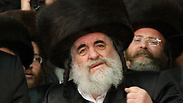 The Vizhnitz rebb, Rabbi Yisroel Hagar
Photo: Yitzhak Lev-Ari
Rabbi Yisroel Hagar, one of the head rabbis of the Vizhnitz Hasidic movement, has called on his followers not to employ Arabs following last week's massacre at a synagogue in Jerusalem's Har Nof neighborhood, which left four worshippers and one police officer dead.

The rebbes of the Karlin and Dushinsky Hasidic dynasties made similar comments earlier, yet they are considered less influential than the Vizhnitz rebbe.

Violence Spreads

Four young settler girls arrested for attacking two Arabs in Jerusalem; meanwhile, riots in East Jerusalem, bus in south hit with stones; police find massive cache of firecrackers, knives.

In a conversation with his followers on Wednesday evening, the Vizhnitz rebbe expressed his deep shock over the terror attack in the capital, referring to its perpetrators as "heinous murderers from the progeny of Ishmael," and warned against "hiring Ishmaelites."

As a religious-faithful lesson from the massacre, he called for "self-examination," a stronger observance of mitzvot and respect for the synagogue.

The Jerusalem terror attack dealt a blow to the soft belly of ultra-Orthodox public. It brought terror into the Torah and prayer institutions, which are supposed to give the community members a sense of protection but are completely unguarded. Now the rabbis are seeking to at least restore the public's sense of security.

Rabbi David Yosef, the rabbi of the Har Nof neighborhood and a member of the Shas movement's Council of Torah Sages, said that every person who owns a weapon must carry it with him to the synagogue on Shabbat and called on the public to issue new gun licenses.

The Kikar Hashabat website even published a weapons guide for haredim who have not served in the army.

"Every synagogue manager must prepare a telephone at the synagogue for any event, "Rabbi Yosef added in an interview to the Kol Barama radio station. "If it's a large synagogue, they should prepare two or three telephones for times of emergency."

He stressed, however, that it was unnecessary for every worshipper to come to the synagogue with a telephone which is forbidden for use on Shabbat.

The rabbi also called for "cancelling the cell phone reception obstructions, so that people can cell from the synagogue at a time of emergency." He was referring to means interfering with mobile phone signals during prayers in order to avoid disturbing the worshippers.