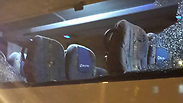 Bus hit with stones in south
Photo: Vallery Kneifel
Four Jewish girls were held by the police after allegedly attacking two Arabs in Jerusalem. The incident came two days after a deadly terror attack on a Jerusalem synagogue left five dead.

Meanwhile, Palestinians rioted in East Jerusalem and a bus was pelted with stones in the south, after police find massive cache of arms, firecrackers intended for use in riots.



An Arab man claims a group of Jewish girls attacked him with pepper spray in the center of Jerusalem. The incident follows the claims of an Arab taxi driver who also claimed to have been attacked by a group of girls. The incident with the cab driver took place in the city's King George Street and was, according him, nationalistically motive.

Jerusalem District Police investigated the incident and then held four girls from the settlement of Yitzhar; they were found carrying two cans of pepper spray.

Meanwhile, Dozens of Palestinians rioted in Jabel Mukaber in East Jerusalem, not far from the mourning tent erected for the two terrorists who murdered five people in a Jerusalem synagogue terror attack two days ago.

The rioters burned tires and threw stones, and massive police forces were sent to the area.

A bus belonging to Metropolin was hit with stones as it entered the southern city of Arad. No injuries were caused, but damage was sustained to the bus. The incident comes amid growing tensions between Jews and Arabs in Israel in wake of a number of recent terror attacks in Jerusalem.

Earlier it was cleared for publication that last week the police arrested four Israeli Arabs from the north after they were found with two containers of arms and equipment intended for use in riots against Israel.

Among the loot found was heavy firecrackers and fireworks, knives, brass knuckles and tazers. They were marked as Christmas decorations and sent from China to an address in Israel.

After the container was unloaded, police found that over 18,000 units of fireworks, which were 20mm in width, were concealed within boxes labeled decorations.

Over 5,200 commando knives were also found, along with electric shockers concealed within flashlights, 5,500 tazers and over 1,000 swords.