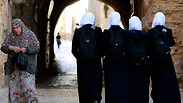 'We should stop convincing ourselves that the Israeli Arabs have to thank us'
Photo: Reuters
One has to be a trouble collector these days to dare suggest that the State of Israel's Jewish residents try to maintain a different relationship with more than 20% of their neighbors – the Israeli Arabs.

It's an indisputable fact that relatively few Israeli Jews have ever visited Qalansawe, which is only a 20-minute drive from Tel Aviv. Many Israelis are willing to queue for a restaurant in Paris for two hours, but not to get into their cars and drive and drive to Tayibe for 30 minutes to drink coffee on a stool in a local café. Tayibe? Have you gone mad? They shoot there. They hate us. It's very dangerous.

Mutual Call

Members of society from both sides urge reflection and mutual respect and call on Israel's leadership to take decisive action to help calm the rapidly spiraling tensions.

Our relations with Israel's Arabs are portrayed as the relations between the psycho soccer fans of Bnei Sakhnin and the psychos of Beitar Jerusalem. Enemies, without a love story. A war.

On such a day, even before the explosive game in Sakhnin, how can anyone write about the good relations which Jews and Israeli Arabs used to have, and may still have one day? Excuse me, but those who have gone out of their time, including myself, should board a special flight even before the game to have some excellent ice cream abroad.

There are many among us who see Israel's Arabs as submissive, poor, ignorant, primitive. Their regular comments include "A good Arab is a dead Arab" or "One cannot trust an Arab even in the grave." And there are certain people in the State of Israel who are very interested in fixating this image. It serves them politically.

Quite a few people will consider it completely unpatriotic to report that although there are many in the Arab population who live in despicable conditions, there are also houses there which would put to shame the villas of Herzliya Pituach and Kfar Shmaryahu; that the young members of the Arab minority serve Israel's pharmaceutics industry in masses, work as doctors and as nurses in hospitals, as computer programmers, as teachers and more.

Jews will put their lives in the hands of an Arab surgeon in a hospital and call him an "Arabush" (a derogatory term for an Arab) two days later.

According to the Israel Democracy Institute's surveys, more than one-third of Israel's Arabs see themselves as Israelis and as an inseparable part of Israel's society and landscapes. They say that once, in the 1990s for example, the number was much higher. On one Independence Day, Arabs raised the flag of Israel over their homes in Nazareth for the very first time.

Since those years, there have been at least two violent "Land Days" with casualties (and that was also the Arabs' fault of course), and the humiliating and repulsive attitude towards them continued, alongside harsh statements made by the Islamic Movement's leaders against Israel, the populist and foolish behavior of some of the Arab Knesset members, and mainly the ongoing affiliation, which will likely never be severed, between Israel's Arabs and the Palestinian population in the territories.

We, who see every spit on a Jew in the alleys of Toulouse or Brussels as a spit in our own face, are unwilling to accept the affiliation between the Arabs of Tira and the Arabs of Khan Younis or Rafah.

We must understand even if we don't want to: We have been sentenced to live together. If there are no good neighborly relations between Moshav Hagor and Qalansawe, there will never be good relations between Qalqilya and Kfar Saba. We don't have to hug each other all day. Israel has chilly peace agreements with Egypt and with Jordan, but there are no wars and no casualties. That's what we need.

How do we get there? We change our mindset and our patterns of behavior. We start thinking that a good Arab is a living Arab. We don't convince ourselves that "the Israeli Arabs should thank us" for all the good things we offer them.

We don't say day and night that in Saudi Arabia or in Egypt or in Syria they wouldn't dare talk the way they talk and act here. Excuse me, do we want to be like Saudi Arabia, Egypt or Syria?