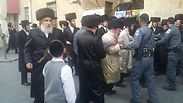 Shabbat protest outside Café Bezalel
Photo: Daniel Weinstein
Ultra-Orthodox association Ruach Yerushalmit ("Jerusalem Spirit"), which seeks to compete with secular cultural initiatives in the capital, has been holding musical prayer protests outside businesses open on Shabbat.

This Friday, a protest is expected to take place outside the Azza 40 restaurant in Jerusalem's Rehavia neighborhood.

Day of Rest?

Still in its development stage, Shabbos App has already sparked controversy among Jewish Orthodox circles.

The association, which was founded by Council Members Yitzchak Pindrus and Shlomo Rosenstein of the United Torah Judaism faction, has been focusing on the past few weeks on Shabbat protests near Café Bezalel and the Menza restaurant in the city center, which are open on the weekends.

Famous haredi singers Aharon and Yonatan Razel, who are also brothers, were chosen as cantors in the protest prayer held last month outside the two businesses in the Nachlaot neighborhood.

The new haredi initiatives appears to be raising an interest among the secular pluralistic sector. Ruach Yerushalmit is trying to compete with veteran secular movement Ruach Hadasha ("New Spirit") and aims to hold social and cultural activities with a "light" haredi nature in Jerusalem's different neighborhoods, as well as protest against businesses operating on Shabbat.

The association's recent protests in the city center included Shabbat songs and psalms and Hasidic dances, which raised a lot of interest among the pluralistic public.

Pindrus and Rosenstein's policy is to hold a cultural protest against the desecration of Shabbat in the city in a way which will not irritate the pluralistic public. "We are simply using wisdom," says Rosenstein. "Violence and diaper throwing are passé. We want to draw new publics closer, and thank God, we are succeeding."

This Friday, the protest is moving from Nachlaot to the Rehavia neighborhood, next to the Azza 40 restaurant, which has been open on Shabbat for the past six months. Its owner said in response that the restaurant is legally open on weekends.