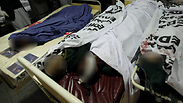 Bodies of children murdered in Pakistan. 'World doesn't care, as long as it's self-genocide'
Photo: EPA
It isn't just a jihad of Islamists against Muslims. It's a jihad against children.

On Tuesday, more than 130 students were murdered in Pakistan. Another 15 girls were murdered in the town of Bayda in Yemen. They were smashed by two car bombs along with 10 adults.

It's safe to assume that in a day or two we will learn about several other dozens of children murdered in northern Nigeria, because there it's practically a daily occurrence. And the victims are not only children; they are mainly children.

Uncertain Future

Op-ed: We may not see the attempt to achieve peace with the Palestinians as the most important thing, but the world and many Muslim states see it as Israel's ticket to survival in a hostile world.

In most cases, suicide bombers are involved. In Pakistan there were likely nine Taliban men. In Yemen there were two of them.

The numbers are rising. There are no accurate numbers of the victims. Last month, more than 2,500 people were killed according to one source, and more than 5,000 were killed according to a different research institute.

For the sake of comparison, 18,000 were murdered in 2013, according to a research source which tends to keep the numbers down. This year the total number will be almost double. And in this rate, next year it could reach 50,000.

One terror attack in a Sydney café, which left three people dead, led to a global commotion; but the Sydney attack, as well as the beheading of American or British people by the Islamic State, are the exception.

The jihad's regular acts are mass murder of other Muslims. Not just Shiites. They murder anyone in their immediate surroundings. They don't discriminate.

There are always explanations. Once it is because the victims prayed in the mosque of an imam who opposed terror. The next time it's because they study in a school which offers Western education. Another time it's because it's a governmental educational institution. There are always reasons.

And the world doesn't really care, as long as it's self-genocide. In the media coverage index, one American is worth about 1,000 Africans. The jihad may talk about Jerusalem and Rome, but the absolute majority of massacres are carried out against Muslims.

Strangely enough, some of the explanations, especially the academic ones, come from the post-colonialist school, which points an accusing finger at the West and Israel. This explanation has nothing to do with reality of course, because the jihad is not fighting against the West or Israel. It is carrying out a mass slaughter, which is beginning to take on the dimensions of genocide, against Muslim women and men.

The jihad is not fighting for liberation from occupation or oppression. Quite the contrary. It is fighting to impose a regime of horrors. But academic theories don't always need facts.

All jihad organizations share a common denominator: The armies facing them are failing to defeat them. The huge Nigerian army is failing to defeat Boko Haram, the Pakistani army is failing to defeat the Taliban, the Iraqi army is failing to defeat ISIS, and we must admit that Israel has failed to defeat Hamas.

In Pakistan's case it's becoming increasingly dangerous, because we are talking about a country with a nuclear weapon. There is no immediate fear that this weapon will fall into the Taliban's hands. But it's clear that the power which includes a nuclear weapon is meaningless in the battle against jihad.

As long as thousands of young Muslims from the West, and from Arab states, are joining the ranks of those who are murdering their Muslim brothers, and as long as there are no young people who are joining the battle against jihad, the mass murder festival will continue. And there appears to be no real change in the horizon.