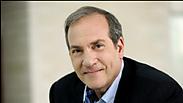 Rabbi Yechiel Eckstein
Photo: Yossi Zwecker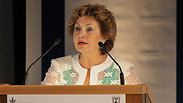 Immigrant Absorption Minister Sofa Landver
Photo: Yaron Brenner
Up until last year, the Jewish community in the Ukrainian city of Donetsk was large, prosperous and consisted of over 15,000 Jews. Donetsk is home to much of the country's heavy industry, which had a positive effect on the Jewish community's economy.
The community's organizations provided an array of services to its members – schools, social services, summer camps, synagogues, cultural activities, kosher stores and more – as a result, the Jewish community of Donetsk had never been in need of donations.
This all changed with the outbreak of hostilities in Crimea.
Jews in Need
International Fellowship of Christians and Jews extends support to thousands of Jews who have fled battle zones in cities of Donetsk and Lugansk.
The major change occurred in July 2014 with the start of the fighting, when missiles were fired at population centers and resulted in several casualties (they do not have a siren alert system, shelters or the Iron Dome).
While only a small amount of members from the Jewish community in Donetsk were wounded, the situation took its toll and the group's economic position began to deteriorate.
"We decided within the community to begin evacuating families from the area," said Donetsk's chief rabbi and Chabad emissary Pinchas Vishedski. "It is for that reason that we rented summer camps in western Ukraine and sent families with children in an initial stage and in the second stage - the rest of the members of the community."
The next step was to open a fund and help those who had become refugees overnight - assisting them in starting their lives anew. Some immigrated to Germany and were given refugee status there, while some decided to rebuild their lives in Ukraine. Some also chose to immigrate to Israel.
In fact, 2013 saw a record number of new immigrants entering Israel. According to figures from the Immigrant Absorption Ministry, 24,800 immigrants arrived from around the world in 2014 – an increase of one third in the number of immigrants and the highest number in the past five years. Another prevalent finding that was listed was a dramatic increase in immigration to Israel from the former Soviet Union, mainly due to the doubling number of immigrants from Ukraine.
Rabbi Yechiel Eckstein in Ukraine (Photo: Olivier Fitoussi)
"This is a staggering increase of about 28% in immigration from all nations compared to the previous year and a record number in the past five years," says Immigration and Absorption Minister Sofa Landver. "The immigration is the future of Israel and is a primary national mission."
"We approved an 'absorption basket' in the government and an accommodating embrace for those who left everything behind and came with only suitcases, and we give grants to each family - those families who leave their homes and arrive with nothing. They left businesses, left their studies and at best arrive with a suitcase," Landver said. "We must take care of these people beyond what is given to every immigrant as they left everything behind."
Rabbi Yechiel Eckstein, founder and president of The International Fellowship of Christians and Jews (IFCJ), reinforced Landver's words: "More people would be willing to come if they hear from immigrants that absorption in Israel is better. The new immigrants are absorbed in six towns in the country and mayors accompany them from the moment they land, travel with them to the towns and personally take care of them."
"We work with 170 authorities and we have, of course, a good relationship with the heads of these authorities. In the future, we will meet with mayors in other countries where there are people who wish to make Aliyah. It would be a positive experience for them," Eckstein says.
Landver added: "We contact immigrants and inform them of what they will receive, how to enter the employment market, entrepreneurial projects, the benefits granted to students and so on. We receive them with warmth and accompany them."
"In addition, we ease the bureaucracy and we ourselves undertake most of the work against the different government offices in order to facilitate the process as much as possible, so that they understand that we want them to come here and stay with us," added Landver.
Rabbi Eckstein believes that "in every place where there is anti-Semitism, it's best to strike while the iron is hot, and thus bring much more immigrants. Instead of moving to Canada, they should come to Israel. This is one of our missions."
As mentioned, while some Ukranian Jews chose to leave Ukraine and immigrate to Israel, there are those who chose to stay in Ukraine and attempted to rebuild their lives. "People left behind property and they cannot abandon it. For this reason, many people stayed in Ukraine and it is our job to help them rehabilitate themselves and start their lives anew," Rabbi Vishedski says.
"The Ukrainian government helps refugees, but to a small extent, not anything you can live off. In addition, there are also those who choose to remain living in eastern Ukraine without a job and we are working on special support for them," Vishedski adds, saying that "for elderly people who have not been receiving pension funds for several months – we made sure they had heating, opened several soup kitchens and more."
The goal, Rabbi Eckstein explains, is to help the Jews who remained in Ukraine as much as possible. "We do everything we can to find frameworks for the Jews who stayed there, including places where they will be received and that will enable them to continue on with their lives. A large part of the help comes in the form of donations that are meant to financially help those who lost all their possessions, and of course help them understand that there is someone protecting them, embracing them, and doing everything in their power to help."
The Jews in the former Soviet Union constitute the largest and poorest Jewish community in the world. The fall of the Soviet regime and the sharp transition to capitalism left entire populations without a social safety net and adequate welfare institutions. For example, elderly citizens receive pensions that amount to less than $200 per month.
The Fellowship has been helping Jews in need in the Soviet Union for the past 15 years. Every year, the group assists some 150,000 people in 16 countries, of which about 60,000 are children and 90,000 are senior citizens.
Funding is also provided to 100 Jewish day schools from the Ohr Avner, ORT, and Shema Israel networks, as well to 56 summer camps for Jewish youth. In addition, the Fellowship donates to 15 orphanages and many soup kitchens.
The Fellowship operates in the former Soviet Union through these proxy organizations: The JDC, the Jewish Agency, Keren Hayesod, the Jewish Federation, ORT, FSU, Shema Israel, and Tikva.