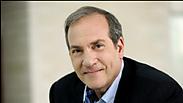 Rabbi Yechiel Eckstein
Photo: Yossi Zwecker
As Israel's supporters around the world rally to its side, one organization in particular is doing every in its power to help.
In just three decades of existence, Rabbi Yechiel Eckstein's International Fellowship of Christians and Jews (IFCJ) has raised close to one billion dollars. The non-profit organization has 1.3 million donors, with an average donation of just $74. According to Eckstein, these members are "giving up things in order to help Israel and the Jews."
Day of Relief
As IDF soldiers who fell in Gaza are interred on Mt. Herzl, children from Israel's south enjoyed a day away from the endless rockets only 300 yards away.
IFCJ, which provides assistance to needy Jews both in Israel and abroad, raised more than $3 million in the first two weeks after IDF Operation Protective Edge began; between its donors in Canada and the US, the IFCJ's annual income stands at $135 million.
Since the start of the operation, IFCJ has been assisting the southern communities hardest hit by the hostilities that engulfed the area in the past month. Speaking to Ynet, Eckstein, who lives in Jerusalem, emphasizes that "playing a leadership role on the ground" is the secret to the organization's success.
The IFCJ cooperates with 170 regional councils and municipalities, including 48 Arab authorities. In fact, shortly before talking to Ynet, Eckstein met with the mayor of Be'er Sheva, whose city has been targeted repeatedly by Hamas terrorists.
"They come to us," Eckstein says of the local authorities, as the nonprofit provides them with nearly "double what the Welfare Ministry gives." Eckstein's organization maintains 170 funds – one for each of the authorities – leaving each council with the discretion to use funds as needed.
This close cooperation with local bodies has allowed the IFCJ to execute what Eckstein called "a two-pronged attack" to deal with Israel's security needs and the needs of its impoverished populations.
The US non-profit has advanced its agenda of protecting Israelis by rebuilding some 2,300 bomb shelters in both northern and southern Israel. It has spent $33 million on security needs alone since the Second Lebanon War in 2006 and as purchased 35 additional mobile shelters since Protective Edge started in early July.
Eckstein stresses that IFCJ's mobile shelters are deployed quicker than those donated by other organizations because his organization is in direct contact with the manufacturer; the organization has also purchased more than a dozen fire trucks over the years.
But, the rabbi says, the IFCJ's charity has not always been welcome due to the religious sensibilities of some in Israel.
"It's very hard to get across that this is funds from Christians," he explains.
The IFCJ has run into criticism from certain demographics in Israel; Eckstein admits that "religious segments in Israel attack us" to some extent because they are "consistently wary of legitimizing Christianity."
Eckstein says IFCJ has a great of support from the Pentecostal church, a branch of spiritual Christianity with close to 280 million members worldwide, but emphasizes that his target audience is Republican-leaning evangelicals. He concedes that not all forms of Christianity are so receptive; the IFCJ, he says, is "not trying to convince liberal Christians."
The group also has begun to offer its resources beyond Israel. Now, Eckstein says, one of the IFCJ's most relevant activities is its involvement in providing security for Jewish communities across the world, including in hotspots like Turkey and Ukraine.
But the IFCJ is not just present in Israel during war. The charity provides $7 million to the IDF every year for various programs. Jordan Ben Simon, the young lone soldier from France who was killed during Operation Protective Edge, took part in an IFCJ project. One of the organization's larger programs, Emmutz Lochem (adopt a soldier in Hebrew) sponsors 53 out of the IDF's 190 brigades.
"We are in place even in times of peace." Eckstein says.