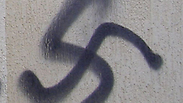 'A chilling message to the Jewish community in Venezuela' (illustration)
Photo courtesy of Chabad Info
Anti-Semitic graffiti was found on a wall of the AIV del Este Sephardic synagogue in Caracas, Venezuela last week, the Anti-Defamation League (ADL) says.

The graffiti, which was allegedly spray painted shortly before daily morning prayer services on December 30, included a swastika and the number six million with question marks.

Growing Fear

As support for Palestinian state grows and number of anti-Semitic incidents is on the rise in most European countries, Belgian Jews say they are living in fear. Immigration to Israel, some believe, could only exacerbate the problem.

"We are deeply troubled that a synagogue in Venezuela was again the target of an anti-Semitic incident," ADL National Director Abraham H. Foxman said in a statement. "It is particularly shocking that the graffiti trivializes the memory of the six million Jews and millions of others who perished during the Holocaust.

"This heinous act - deeply offensive to Jews and other survivors - sends a chilling message to the Jewish community in Venezuela and is an affront to all in Venezuela who strive to live in harmony.

"Unfortunately, we have witnessed that anti-Semitic incidents occur far too often in Venezuela. Despicable acts of intimidation, like this one targeting Jews, contribute to an atmosphere of insecurity."

Foxman added that Venezuelan President Nicolás Maduro and his government were responsible for the safety and well-being of the South American country's Jewish community.

"We respectfully urge the Venezuelan government to take decisive action against such manifestations of anti-Jewish hate and to make it clear to the Jewish community - and all Venezuelans - that anti-Semitism or any form of hate, bias and harassment towards minorities have no place in Venezuelan society and will not be tolerated," he said.

A recent ADL poll in 100 countries found that 30% of Venezuelans surveyed harbor anti-Semitic attitudes. The League's poll also found that 39% of the respondents have never heard of the Holocaust, and of those who have, 30% believe the numbers have been exaggerated.