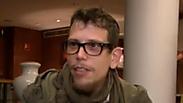 Jeremie de Bock. 'There are gas lines'
Photo: Eli Mandelbaum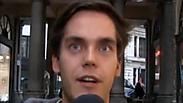 Simon de Klerk. 'Jews in Israel are putting Palestinians in ghettos'
Photo: Eli Mandelbaum
"We have to put our jacket outside of the classroom, and often I would find in my pocket pictures of Hitler or Mussolini or Jews dying," says Jeremie de Bock, a Jewish student in Brussels, when asked to describe the current atmosphere in the European Union's capital, more than 70 years after the Holocaust.

"Just for fun, they would put the gas of their lighter in my nose to make my shut up or to make me react or to have a fight, or tell me I should shut up in the class because there are gas lines," he recounts. "All of that was always done in front of teachers that didn't really care."

Recent Incident

Physician tells Jewish woman suffering from fractured rib to go visit Gaza to help with pain.

The growing support in Europe for a Palestinian state, alongside the sharp rise in anti-Semitic incidents in most of the continent's countries, present an alarming picture. What people euphemistically refer to as "anti-Israel activity," researchers are now defining as "new anti-Semitism."

Three of the European Union's five main institutions are located in Brussels. In the city center, near commercial and tourist sites, we heard blatant statements against Israel and the Jews from Belgian citizens. It seems people are no longer afraid to express anti-Semitic sentiments.

"I think in Israel Jews are doing a bit the same sometimes like when they lived in Europe in the past and Second World War," says Simon de Klerk, a Belgian student. "Now they are building walls and they are putting people in the place that they have been.

"They are putting people in the ghetto in Palestina while they have been put in ghettos themselves, and I think they should think about it and use that position and shouldn't do that to other people because there are not many populations who have experienced it like them."

"I don't see Jews as any other population you have – Arab people, Jewish people, Caucasian people," says Stephen, another citizen we talked to on the street. "Every people has his right to live his own religion, but when you live in a society you have to respect each other's borders. Your personal freedom only goes as far as the personal freedom of somebody else, and I think that's something that they're really not respecting right now."

We asked a passerby named Ashraf if he thinks there is indeed anti-Semitism in Belgium. "What we see today is a hierarchy in racism," he replied. "I am totally against racism, but there is a hierarchy in which anti-Semitism is at the top and racism against black people is at the very bottom. It demonstrates Israel's status in the world we are living in.

The situation is affecting the local Jewish community. "There is an atmosphere of fear," says Rabbi Menachem Margolin, the general director of the European Jewish Association, (EJA). The deadly shooting at the Jewish museum in Brussels last year, made it clear just how real the danger is.

"We are being secured by the authorities. They are not taking any risks," he says. "They know we are a community under threat, and the authorities are doing everything in their power to protect us. But the atmosphere is against us also because the events in the Middle East which definitely have an impact on us."

"There is a certain level of anti-Semitism in Europe, and not only in Belgium," says Philippe Markiewicz, president of the Jewish Community of Brussels, "but we should not exaggerate. The majority of the Belgian people are not anti-Semitic."

Rabbi Margolin believes immigrating to Israel is not the answer.

"The aliyah to Israel weakens the Jewish community in Europe and doesn't help solve the European Jews' general problem," he says.

"It even causes damage, because the solution for anti-Semitism in Europe is a strong Jewish community that will fight against it. If we are big and strong we can deal with the authorities and be a much more significant minority.

"At the end of the day, the Israeli officials calling on Jews to immigrate to Israel are basically shooting themselves in the foot because without the activity of the Jewish communities in Europe, which are lobbying for Israel in Europe, Israel's situation in the European arena could have been much worse."