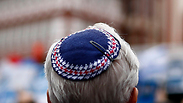 Jews protest anti-Semitism in Germany on August 31, 2014
Photo: Reuters
Israel's war against Hamas, rising anti-Semitism in Europe, the shootings at the Kansas Jewish community center by a career white supremacist, a noticeable rise in anti-Israel activity on campus and the proliferation of anti-Jewish hate speech on the Internet top the Anti-Defamation League's (ADL) annual list of issues affecting Jews in 2014.

Also among the top 10 issues affecting Jews: Scandals involving anti-Semitism and racism that rocked professional sports; the Iranian nuclear negotiations; the Supreme Court decisions allowing legislative prayer and free exercise rights for corporations; immigration reform; and racial bias in the criminal justice system.

String of Attacks

Op-ed: Recent hate crimes in France were committed by people with different motives who perceived the messages conveyed by their surroundings in the same manner.

"It was a difficult year for the Jewish people as we witnessed Israel coming under attack repeatedly, both in the form of a campaign of terror waged by missiles and through tunnels as well as attacks to its very legitimacy," said ADL National Director Abraham H. Foxman.

"Anti-Semitism once again was on the rise. Never in our lifetime did we think we would hear chants of 'Jews to the gas' in – of all places – Germany. The heinous terrorist attack at the Jewish Museum in Belgium and the protests that erupted during Israel's operation in Gaza brought even more anti-Semitism to the surface in countries around the world, particularly in Europe."

"Racism reared its ugly head this year in a series of high-profile incidents involving sports franchises and professional teams in the US and around the world," said ADL National Chair Barry Curtiss-Lusher.

"From the LA Clippers fiasco to other issues and controversies involving major professional teams, racism and anti-Semitism remained a serious problem on the field and in the executive offices. We were reminded that much work remains to be done to ensure professional sports remain hate- and prejudice-free zones."

ADL's top 10 issues affecting Jews in 2014:
Israel fights back against Hamas terror
Anti-Semitism on the rise in Europe and elsewhere
White supremacist takes credit for Kansas Jewish center shootings
Professional sports world rocked by racism, anti-Semitism scandals
Anti-Semitism spreads through internet; providers respond
Iranian nuclear negotiations down to the wire
Anti-Israel activity spikes on college campuses
Jewish groups push for immigration reform
Troubling Supreme Court decisions impact religious freedom
Racial bias in the criminal justice system

Israel fights back against Hamas terror
After enduring unceasing rocket attacks against Israeli cities and towns, Israel launched Operation Protective Edge in July in an effort to uproot the Hamas terrorist infrastructure responsible for the violence.
On July 17, following more than 10 days where 1,500 missiles, rockets and mortars were fired from Hamas-controlled Gaza into Israel, the Israeli government expanded its military operation by sending in ground troops to destroy Hamas's tunnel network and rocket storage facilities.
Even as Israel sought to keep civilian casualties to a minimum, Hamas continued to cynically hide rockets and operations centers among the civilian population.
The 50-day war ended with a tenuous cease fire, with tensions remaining and no prospects for a rejuvenated Israeli-Palestinian negotiating process.
"The war was Israel's right to defend itself," said Foxman, "and now it has to defend that right around the world."
Anti-Semitism on the rise in Europe
Jewish communities around the world bore the brunt of real-world, violent anti-Semitic attacks aimed at individuals and Jewish institutions in 2014. Anti-Semitism figured prominently in anti-Israel demonstrations that took place around the world during Israel's military operation in Gaza.
In May, in one of the deadliest terrorist attacks reported outside of Israel, a 29-year-old French-Algerian national believed to have spent time in Syria fighting alongside jihadist groups opened fire inside the Jewish Museum in Brussels, Belgium, killing three people and injuring a fourth before fleeing.
France experienced a series of shocking anti-Semitic attacks. On December 1, a Jewish family in a Paris suburb was targeted for a horrific home-invasion assault, rape and theft apparently motivated by the perpetrators' belief in the age-old anti-Semitic myth that all Jews have money.
During the Gaza war, anti-Semitic slogans and chants of "Death to the Jews" were routinely heard at demonstrations in Paris.
And elsewhere: In Casablanca, a rabbi was assaulted; in the Netherlands, a Holocaust memorial was defaced with "free Gaza" graffiti; and in Germany, shouts of "Jews to the gas" were heard during an anti-Israel rally in Gelsenkirchen.
Meanwhile, ADL's Global 100 Survey, released in May, found that anti-Jewish attitudes are pernicious and pervasive around the world, with one-quarter of the world's population infected with anti-Semitic beliefs. In France, 37%t of the population was found to harbor deeply entrenched anti-Jewish notions.
White supremacist claims Jewish center shootings
"I wanted to make damn sure I killed some Jews or attacked the Jews before I died." Those were the chilling words of F. Glenn Miller Jr., the avowed white supremacist charged with killing three people outside of Jewish community centers in Overland Park, Kansas.
The April 13 shooting rampage was apparently the last-stand for the 73-year-old accused killer, who in a lengthy newspaper interview recently admitted he selected the local Jewish Community Center and a senior center in the hopes of killing as many Jews as possible.
Miller, a former Klansman long known for his virulently anti-Semitic and racist views, is currently in prison awaiting trial. While three people were killed, ironically, none of Miller's victims was Jewish.
Sports world rocked by racism scandals
The professional sports world was rocked by a series of scandals and controversies involving racism and anti-Semitism both on and off the playing field.
In February, the National Football League announced it was considering penalties for players who use discriminatory language – including the "N-word" and other slurs – during football games.
In April, the National Basketball Association banned Los Angeles Clippers owner Donald Sterling for life in response to racist remarks attributed to him.
In May, an outpouring of anti-Semitic tweets in Spain followed the victory of the Maccabi Tel Aviv basketball team over Real Madrid in the Euroleague championship.
During the World Cup semifinals in July, social media was flooded with insulting tweets and messages including the word "Nazi" or "Nazis" or messages such as "Long Live Hitler" in reference to the German term.
And in September, a British football team apologized after a tweet wishing Jewish supporters a happy new year prompted a flurry of anti-Semitic messages.
Anti-Semitism spreads through Internet
The Internet continued to be particularly fertile ground for spreading anti-Semitism. One recent ADL poll found as many as 69% of teenagers in Israel encountered anti-Semitic expression on the Internet, with nearly three-quarters of those polled having been exposed to anti-Jewish caricatures, images and symbols such as swastikas.
A Facebook page labeled "Jewish Ritual Murder" perpetuated age-old, anti-Semitic propaganda. And blatant anti-Semitic and Hitler-related hashtags proliferated during Israel's operation in Gaza. Among the more disturbing hashtags promoted on Twitter were #HitlerWasRight, and #HitlerDidNothingWrong.
Terrorist groups also used social media as a tool to foment violence against Israel.
The onslaught of racist and anti-Semitic messages did not go unnoticed by those working to counter them. In September, working closely in partnership with the leading Internet providers, ADL announced the release of its "Best Practices for Responding to Cyberhate," an initiative establishing guideposts for the industry and the Internet community of users to help respond to the spread of online hate speech.
Facebook, Google/YouTube, Microsoft, Twitter and Yahoo! were among the major companies that publicly welcomed this initiative.
Iranian nuclear negotiations down to the wire
After months of diplomacy by the US and international partners, negotiations to end Iran's nuclear program were extended by an additional seven months. Israel and Jewish organizations reacted skeptically.
As world powers continued to engage with Iran to resolve the nuclear issue, there was a risk the ongoing talks would give legitimacy to Iran despite its extremist policies, sponsorship of terrorist organizations and continuing gross violations of human rights.
Nevertheless, it was still believed that diplomacy to end Iran's nuclear weapons program, if achievable, would be the best outcome.
"The Iranians have been cheating all along, and this may therefore require an additional dose of US-led sanctions to convince Iran that the price of a nuclear Iran will be too costly," said Curtiss-Lusher.
Anti-Israel activity spikes on college campuses
Student groups seeking to isolate or delegitimize Israel dramatically stepped up their activity on college and university campuses. The fall semester witnessed a doubling in the number of anti-Israel events taking place on US college campuses, with at least 745 anti-Israel events taking place around the country.
Anti-Israel student groups known for engaging in confrontational tactics, such as staging "die-ins" and constructing "apartheid walls" on campus have become increasingly active and effective in recent years.
Jewish groups advocate for immigration reform in US
Driven by a strong belief in America as a nation of immigrants and the memory of the Jewish immigration experience here, major Jewish organizations continued to advocate in 2014 for a meaningful path toward immigration reform.
In November, President Barack Obama announced his executive action on immigration, which would keep families together and allow relief for some immigrants who pass background checks and pay taxes.
The step was hailed by Jewish groups, who continued to advocate in Washington, DC for more comprehensive action by Congress to reform our dated immigration system.
Supreme Court decisions on religious freedom
In two closely divided rulings with significant implications for the Jewish community, the US Supreme Court approved explicitly sectarian prayers before local town boards and opened the door to owners of private corporations seeking to impose their religious beliefs on their employees.
In Greece v. Galloway, the court concluded that a local policy resulting in all invocations before a town council being overtly Christian in nature did not violate the Constitution's establishment clause.
"This is particularly troubling because local citizens seeking recourse from public officials are likely to feel pressured to participate in religious observances not of their own faith," said Curtiss-Lusher.
In Burwell v. Hobby Lobby, the court found that private corporations have religious rights and can refuse to include certain forms of contraceptive coverage in the insurance coverage mandated by the Affordable Care Act.
From ADL's perspective, the decision misinterpreted the Religious Freedom Restoration Act and could have long-term consequences for Jews and other religious minorities who find their religious practices burdened by corporate owners of other faiths.
Racial bias in the criminal justice system
The shooting deaths of African-Americans at the hands of police officers – especially the cases of Michael Brown in Ferguson, Missouri and Eric Garner on Staten Island, New York – resulted in an outpouring of protests and demonstrations. Some turned violent.
Public safety requires trust and communication between law enforcement and the communities they are sworn to protect, ADL says, especially when their jurisdiction includes communities comprised primarily of racial, religious and ethnic minorities.
According to the Jewish group, the Brown and Garner cases highlight a continuing challenge that must be addressed – bias and/or the perception of bias that can call into question the integrity of the American criminal justice system.
"These cases were potent reminders that we cannot afford to ignore the implicit bias and prejudice that still tarnish our society," said Foxman. "We need a justice system that all Americans can trust, and the Jewish community can play an important role, joining with our political and community leaders, towards pursuing and ultimately achieving that goal."