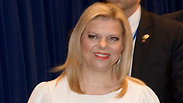 Sara Netanyahu. Carries no responsibility
Photo: Avi Ohayon, GPO
There is a problem on Jerusalem's Balfour Street. A family affair which cannot be erased with the pretext of election stories. There are complaints, lawsuits and legal compromises which have been going on for years, too many complainants, too many witnesses and too many stories to be able blame everyone of maliciously conspiring against Prime Minister Benjamin Netanyahu and his wife.

Nonetheless, I don't understand the demand made by some journalists to launch a campaign against the Likud because of one Sara Netanyahu. The State of Israel has one prime minister, alongside an elected government. The law contains no responsibility of a husband or wife. A person who allegedly affects the elected representative's state of mind carries no responsibility. This is the situation in Israel and in any other democratic country in the world.

Personal Matter

Workers claim they were verbally abused by Sara Netanyahu 'especially after she drank large amounts of alcohol which she forced us to bring her on a daily basis.'

The State of Israel has seen prime ministers' wives with different kinds of insanity throughout the years. Veteran bodyguards can share stories which sound unbelievable. The most famous one was Paula Ben-Gurion, who was known for her thefts. Nonetheless, her husband founded a state, an army, government institutions and a famous textile factory in Dimona.

There were other wives who were modest and pompous, quiet and loud. It was always interesting and always deviated from the important things.

The story of the prime minister's wife has nothing to do with Israel-hating leftists, but with serenity-disrupting relations. I know some people who claim that one day they will open their mouths. Some of them served in important positions. One day, when Netanyahu is no longer prime minister, they will speak out, they say.

I see it as running away and as a disgrace. If there is a problem which affects the State of Israel's fate, they must speak out today. What are they waiting for? If it's not a family problem, there is no need to speak out today or tomorrow.

So far, no one has succeeded in convincing me that Netanyahu's problems stem from his family. The man's advantages and disadvantages stem, as far as I am concerned, from one thing only – his character.

The issue of the disgruntled employees over the years (and again, I don't think this is a sequence of fabrications), is also puzzling. If there is a criminal matter here, where are the law enforcers? Where are the gatekeepers in charge of the "Buzaglo test" and people of authority?

If there is no criminal issue matter here, but only financial clarifications and complaints about conduct – then leave us alone. Some proportionality is needed. People have a right to privacy, and a couple has a right to keep its private skeletons in the closet.

And there are of course those who are trying to take advantage of the family reality and get to the prime minister through his wife. That's also a natural thing in my opinion, despite the hierarchy. In every workplace, there are those who fawn through the boss' wife. The boss' job is to detect the sycophants and get rid of them so that they don't get in the way.

The argument with Netanyahu is about his diplomatic and political ways, not about his family ways. Even in a country in which a politician is sacrificed, he has the right to be on the altar on his own. Whoever votes for Netanyahu isn't doing it because of his family, but only because of what he is. His experience, his decisions throughout the years. Whoever opposes him will find anything.

Netanyahu didn't make peace because reality doesn't allow it, not because of his wife. He released terrorists in the Shalit deal because that was his decision. He fought and restrained in Operation Protective Edge out of his own world view, and the responsibility lies on his shoulders. And he is going to address the US Congress because he thought it would be the right thing to do for the state and for himself.

Do I think his wife has no influence on him? No. But the responsibility is his and only his. He is the one who navigates, leads, decides, performs. If he hasn't done any of these verbs, it's his responsibility too.

Personally, I would be glad to see a different person head the Likud in the coming years. It's time to freshen up the forces. There is a need to tackle the diplomatic crisis in the world with an alternative plan for a peace agreement from the right side of the map. To provide answers, to make some significant decisions. The Likud can reach broader audiences. Netanyahu is the party's engine, but he is also its main brake.

When that happens – one day – Netanyahu will be a former prime minister, the sycophants will disappear, and possibly also the accusers. The family will remain, like every family, with its secrets and affairs.