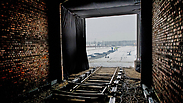 Auschwitz. 'It was surreal and painful'
Photo: MCT
Italian Jewish leader locked inside Auschwitz
Ricardo Pacifici, president of Rome's Jewish community, finds himself trapped in former Nazi death camp with television crew at end of International Holocaust Day ceremony. Attempt to get out leads to detention and five-hour interrogation at local police station.
The president of Rome's Jewish community never imagined that he would find himself locked inside Auschwitz at the end of the memorial ceremony marking the 70th anniversary of the former Nazi death camp's liberation.

"It was surreal and painful," Ricardo Pacifici told Yedioth Ahronoth on Wednesday. "I arrived in Auschwitz as part of the ceremonies marking 70 years since the camp's liberation and International Holocaust Day and in order to participate in a popular program on Italy's Canale 5 television network.

Liberation Anniversary

An 82-year-old Holocaust survivor, now living in Haifa, goes back to Nazi extermination camp in Poland to mark 70th anniversary of its liberation.

"There were many television crews on the site, and our program was supposed to be the last one broadcast from there: We were given two hours – from 9 to 11 pm. I was interviewed under the famous "Arbeit macht frei" ("work sets you free") sign. I was with the community's spokesperson, the program's host and two technicians.

"When we finished shooting the show, we discovered that the camp had been locked and that we were trapped inside."

According to Pacifici, the program's host tried to enter the ticket sales room through an open window, and that set the alarm off. "It was minus 9 degrees outside. We hoped to enter the room and get out from there. But shortly afterwards, a Polish guard arrived. He only spoke Polish and called the police, as if we were burglars who were trying to infiltrate the camp."

The Jewish leader and the program's crew failed to convince the police that they were locked inside the camp while performing their work, and were taken into custody.

The five Italian citizens were led to the police station in the nearby town of Oświęcim, where they were questioned for five hours.

"I tried to explain my personal story, that my grandfather, who I was named after and who I never met, was murdered and burned here, in this place, and that getting locked in the camp, being detained and interrogated was a painful experience for me, but there was no one to talk to," Pacifici said. "They weren't violent, God forbid, but they definitely acted like government workers."

He said he was questioned five times by police officers from different department.

Pacifici's grandfather served as the chief rabbi of Genoa. The grandson and the television crew members were released from custody only after Italian diplomats got involved and tried to put an end to the Kafkaesque affair.